I made a scarf with the same pattern and wanted to add some photos of it here too.
I used sugar n cream all cotton yarn so it's bulky and toasty.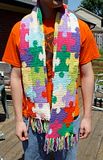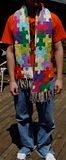 My son is modeling it for me. It's made the same tunisian stitch way following the graph only this time I only made it 4 puzzle pieces wide and 16 puzzle pieces long. This way you join the sides and they match up in back where the joining seam is.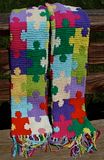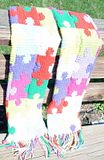 This is a front and back shot. (Sorry the back shot is over-exposed). I wanted to show the seam. Just make sure you use the correct matching colors while working on it so when you join the sides, the end puzzle pieces will match in color.