Please click on the photos to enlarge the pictures).
Hey! I Think I Love You!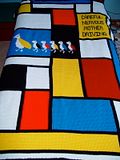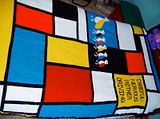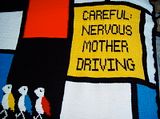 This started out as a Mondrian-style afghan using a pattern found at the Lion Brand yarn site. Half-way through I decided to make it a Partridge Family bus theme.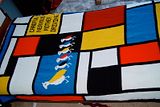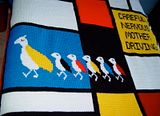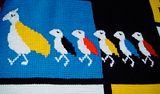 My blog has all the info on the making of this afghan. (I tend to babble on so much I think I would bore you to death posting it all here.) So please, if you're interested in all the details including the back shots of the afghan, just go to the blog, (link is at the bottom of this post), and you can see all the other shots.
It is done in tunisain afghan stitch using a size J cabled afghan hook.
The yarn is "I Love This Yarn" from Hobby Lobby.
This afghan is a salute to all the single working Mom's out there. I don't know how you all manage it. You're amazing!
Happy Valentine's Day!