In honor of Rowling's "outing" of Professor Dumbledore I wanted to make something very nice. I had a very small graph of a wizard laying around waiting for me to use so I decided to make a scarf. (You can click on the photos for an enlargement).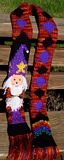 First I made the wizard with the graph, then I continued up along the body of the scarf making diamonds, (reminiscent of the U.S. version of the Potter books which all have a diamond pattern on them in different colors for each book), then I made a rainbow at the other end. I used a size J cabled afghan hook. The multi-colored yarn is Red Heart's Essentials in the Harvest color. (Kind of Gryffindor-ish).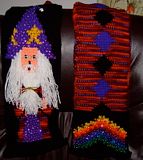 The above photo shows what it looked like after I finished embellishing it with lots and lots of sequins. (I had two left-over kits of sequins from finished seasonal banners I had once made). So I went crazy adding the sequins.
You thread a needle, then go up from the back, add a sequin, add a clear bead, then go down the same hole of the sequin you are already in. This holds down and secures the sequin. Then you do it a million more times.
I even added some cool flower-shaped sequins on the rainbow. I also added a plastic white bead for the tip of the wizard hat and for glasses I stitched them on with metallic thread.
Oh, and latch-hooked some hair overtop the white hair stitches on the scarf.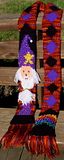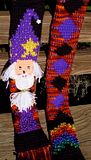 Here's two front shots.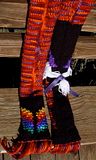 These two show the back seam where I joined the side edges. First I went around the whole scarf in single crochet stitch, then I threaded a yarn needle and wove in and out to join the two sides. This way it's nice and even, no puckering, no ugly back side because that is hidden inside, and it's double-thick for warmth. It's like a long tube. I tied his shaggy hair in back with a purple ribbon.
Then, finally, I added tassled fringe to the bottoms.
I looked for a phoenix bird pin or button to add just above the rainbow in that black area, but I couldn't find one.
Hope you guys like it! Oh, and Happy Halloween to everyone!