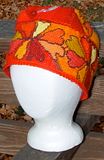 This fez was originally supposed to be a wide belt and a bit of needlepoint applique for a t-shirt.
Warning: major photo overload as I post these pics from all around the hat. Click to enlarge them.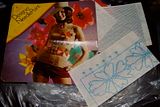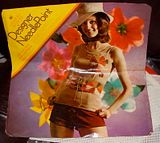 I found this awesome needlepoint kit from the 70's on etsy. The belt was four inches wide and way too small so I made it into a fez hat with the needlepoint appliqued part as the top of the hat.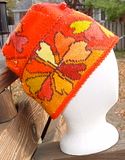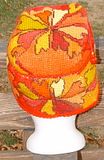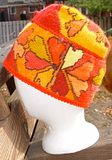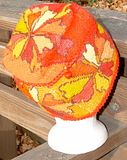 It's full of fall colors. The kit came with oranges and reds and yellows and I added a lot more of those colors I had on hand as well.
For the tassel, I attached a pony bead with a strawberry-shaped bead at the end. I thought that was perfect since strawberries were very popular in the 70's. You can see it really well in that last shot.
The front of the fez, where a shriner would have a curved sword, I sewed on a piece of jewelry which looks like a stalk of wheat at the top and a faceted cherry on the bottom. (I love old trashy costume jewelry. It's always unique and fun!) You can see it in the very first photo at the top of the post.
Some of you Doctor Who fans out there might have recognized my quote in the title of my post. For those not familiar, the good Doctor once briefly wore a fez until his companions had a rather nasty reaction to it as seen in this you tube clip...
http://www.youtube.com/watch?v=bvWYw0CnuSI
"It's a fez. I wear a fez now. Fezzes are cool."
LOL!!!!!!