I just got married on Friday, February 29th, so I don't have a ton of photos yet, but I wanted to give some props to my hubby (and a little to me!) for some of our crafty wedding things. Our parents live far away, so we were pretty much it as far as the planning and execution went.
It was pretty much perfect.
Here is our invitation - the back has all of the pertinent information in pink ink. I highly recommend marrying a Graphic Designer/Artist for wicked invites.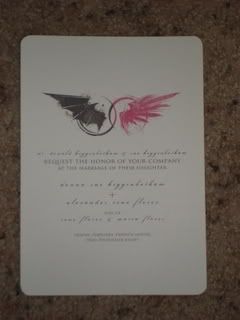 I made our flowers. I found a GREAT place on line to order mini calla lilies for a decent price. I was able to make 5 bridesmaid's bouquets, my bouquet, a flower girl bouquet, 15 boutonnieres for the guys, five corsages, and two mini "tussie mussies" for the mothers' of the bride/groom for pretty cheap. The bouquets were pretty easy to make with just floral tape, ribbon, and pearl-head pins (and some double sided tape if necessary).
The girl's bouquets... The guys just had one calla with white or black ribbon wrapped around the stem. (Pink flowers had black ribbon - white flowers, white). I HIGHLY suggest asking your bridesmaids to just pick out their own little, black dress to wear. My girls LOVED getting something they would actually wear again that looked good on them and didn't cost a fortune. ...And that they didn't match or have jewelry that wasn't their style.
We were married outside at the Dallas Arboretum in "A Woman's Garden." Luckily, the weather cooperated and the wonderful woman who helped us at the Arboretum recommended we get an airstar light - otherwise it would have been pitch black after a while...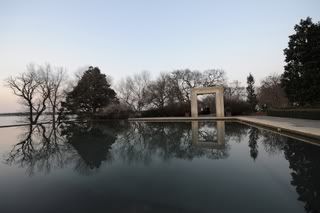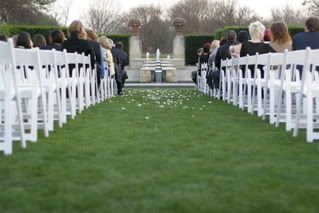 I made felt flowers for my five nephews to wear on their pink shirts (with black pants - they walked my mom down the aisle - all 5 crazy boys 12 and under) so they didn't have to worry about pins sticking into them. Here's the second to the youngest. He's two.
We did the lazo ceremony to make my dad and his mom happy. It's a traditionally Catholic (mostly in Hispanic areas) ceremony where you are draped with a three-cord lasso by the mothers to signify that your bond is stronger when God is part of your marriage. Although we're not Catholic, my dad (who's a pastor), was asked to include this in a lot of wedding ceremonies he did for people who grew up Catholic and changed denominations, but didn't want to lose some of their traditions. It's pretty neat, but we didn't really want to do it - this was our "All right - now you can't complain in 10 years when we don't do the one thing you asked for" part of our wedding. You can plainly see our opinion...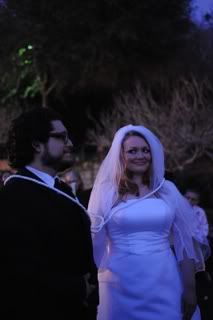 Our reception was held at the amazing Lakewood Theater in Dallas. It's gorgeous -the staff is incredible, and the place was so neat we just decorated with a million tealights popped out of their metal holders and into cheap a-dozen-for-2-dollar holders from Ikea. Oh, and we put our bouquets in nice square vases (2.50 from Ikea) strategically around the place. Every other seat can be made into a table at the theater, which was great - but there (luckily) wasn't much room for anything other than a candle.
Our marquee: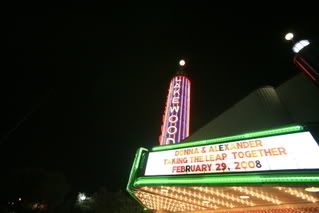 The inside:
Our nerdiness showed up on the groom's cake. We actually got these at a shower my work at Southwest threw for me. I have the best coworkers. :-)
Our favors! (A joint effort) We had our reception in a restored Art Deco movie theater - so they're our "concession" (ha ha) to the movies.
We filled popcorn boxes with a few scoops of air-popped popcorn (no grease) for the big send off... (It was way better getting pelted with popcorn rather than rice or birdseed).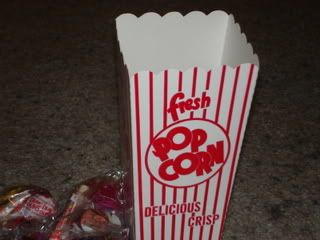 And then put our goodies on the top. Each bag had a toy dinosaur or two, some 1 inch buttons we made out of fun pictures we found in magazines, a sticky hand toy, and lots o candy! I'm eating some twizzlers and smarties as we speak....
My favorite combination of buttons - I have no idea who got the bag that had this stellar grouping - I hope they weren't offended.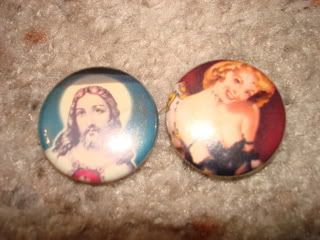 The big sendoff...
And last but not least - we had the MOST amazing photographer: Hal Samples of Dallas (
www.halsamples.com
). His signature is to put up a white backdrop and take pictures of groups of guest. We were able to print out copies of photos and give them to guests in a nice, white card on location. Just one per group of guests, though - we only had the stuff for 200 pics. Those are my favorite pics. As the night wore on (and there was more imbibing of alcohol), they got more fun.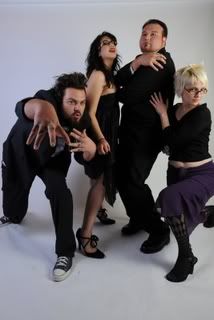 Sorry to put so many pics up! Thanks for looking!