My brother recently married his longtime girlfriend this October. Fittingly, they married on 10-10-10, soon after they celebrated their 10th anniversary. They're adorable--my little brother is precious, and his wife is very much a sister to me. They also have fun tastes and had their reception in a loft-style building in the warehouse area of downtown Dallas. As such, they put up a lot of framed artwork and photos throughout the bricked space. My husband and I decided to each make them a gift playing off the theme of "Love Never Fails" (since we read from 1 Corinthians 13 at the ceremony) that they could use.
I love, love, love Yulia Brodskaya's art, and I must admit that my piece was heavily influenced by her. My husband designed the piece for me, so I can't take full credit.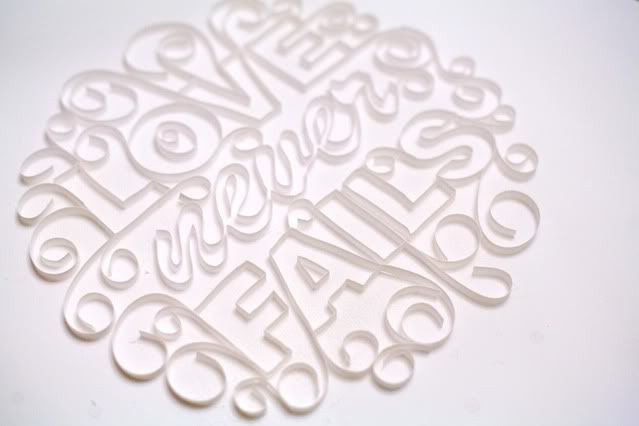 I was pretty happy with it - I found that it was way easier to use a light table and spray adhesive and just follow the design with the long strips (cutting and folding as necessary) than trying to make each piece individually - especially for the curvy "never" and the scrollwork. I'll do this again, but I need to make sure to use a repositional adhesive then - the paper got kinda rough looking with the spray adhesive I used this time. I ended up spray painting the paper with several coats of white in order to help mask the rougher spots.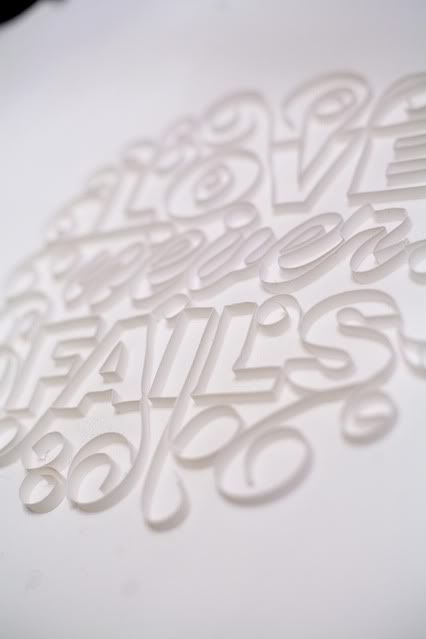 In the frame/shadow box (it's actually quite small - a foot square in size:
And for kicks, my husband's wonderful art. He screenprinted his design on a large square canvas he'd painted with red acrylic. It was really, really hard to give it up. It looked great over our mantle the few days we had it.
Here's a link to his tumblr with the screenprint.
http://www.warholreject.com/post/1300789782/love-never-fails-check-out-these-crappy-1st