I used a plain composition notebook to make this. While I was taking out some of the pieces of paper I broke the binding, so I had to take it apart and re-sew the binding (way easier than I thought it was going to be). Then I realized that the covers were actually two layers of thin cardboard not one so I stripped off the top layer and recovered the whole thing with cardstock and scrapbook paper.
Here is the outside, the text in the orange piece says "imagine"
Here is a pic of one of the pages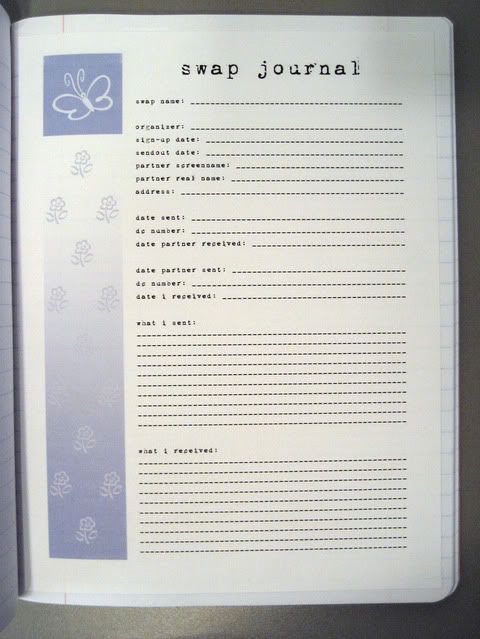 I used a cool typewriter font for all the text, the fields are
- swap name
- organizer
- sign-up date
- sendout date
- partner screenname
- partner real name
- address
- date sent
- dc number
- date partner received
- date partner sent
- dc number
- date i received
- what i sent
- what partner sent
There are also 3 other pages for each swap with fields like
- info i sent
- info partner sent
- ideas to make
- supplies needed
- notes
- misc
I love this and it's been really handy to keep track of everything! I am even printing off pictures of everything that was sent/received to make sort of a mini scrapbook. Thanks for looking!