Girls, I am soooo soorry. My life has been topsy turvy I can't even begin to explain what has been going on here, but my basement flooded, and my beau's car was totaled about a week before my car's radiator rusted clean through!!! ARGH.
Anyway, I wanted to apologize PROFUSELY to my partner,
liralen
who was not only really a good sport about me sending late, but sent me a lovely swap package.
Here is my awesome swap package, (with one shipping tragedy.)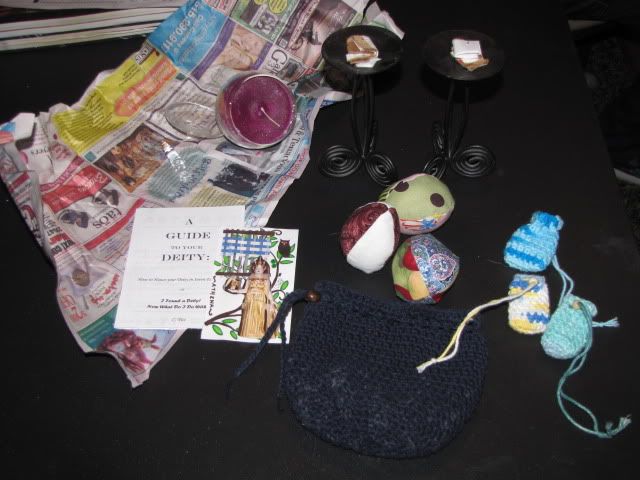 Two spiral candle holders, a goblet candle (which didn't make it through shipping), three adorable patchwork eggs, and my two favorites, the multiple bags to hold my lovely stones and the "Getting to Know your Deity" kit!!
The eggs and crocheted bags!! ADORABLE
And this was so thoughtful!! I told
liralen
that I had a pretty profound experience at the Nashville Parthenon but wasn't sure what to do w3ith my relationship with Athena. She made this devotional card and booklet on getting to know your deity. It was really clever and unbelievably helpful!
Again, thank you so much to my swap partner for having made a thoughtful package and being patient.
*huge hugs to
Liralen
!*
Thank you so much!!
~Sullengal