Wow! Thanks, Diane!
My favorite part involves smashing the clay with a hammer - sounds fun.
I don't have a dedicated food processor, so the hammer method would be the way to go. I had thought that I would make square and round rolls to cut into pieces, but I like the idea of more random pieces, it will look more realistic.
As for size, I am thinking around an inch long. Possibly an inch and a half.
As for texture and look, I am envisioning a browned loaf with dark speckles, some browning on the bottom/edges (with pastels and a brush probably), and some fruit bits showing through on the sides (blended with the brown, but seperate chunks.)
I thought to really make it clear it was fruitcake (as opposed to a funky brown brick), would be to add the candied fruit covering the top (I like the idea of pre-glazing and then doing one more light coat once the cake is assembled.).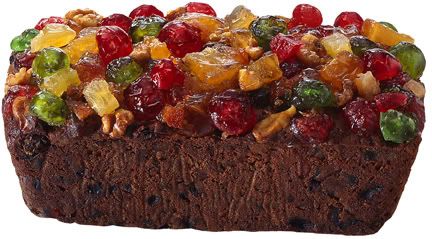 I meant eyepin when I said hook. I am lame at remembering terms.
I like the idea of a U-shape wire in the top. Seems more ornament-style.