After a morning of sitting at the car dealers waiting for them to fix my car, it was such treat to come home to find a box of whimsies waiting for me! My partner, kristen219, spoiled me with a couple of extras, too!
Stuffed into the jar: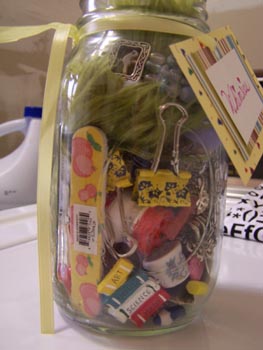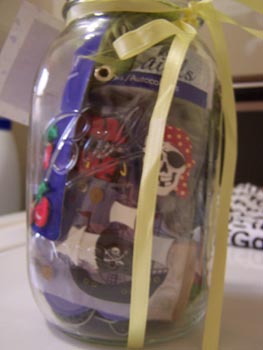 And some close-ups:
Cool fabric, mini notecards, stickers (butterflies and pirates!), furry green fabric (future mini-monster), cherry appliques and a vintage-y postcard plaque.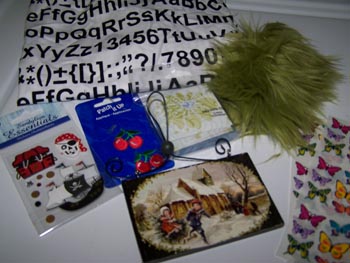 A bunch of very cool beads and charms to make stuff with! I love the key and the heart! And, the purple polymer beads are very cool (did you make them, Kristen?) and will be turned into earrings, I think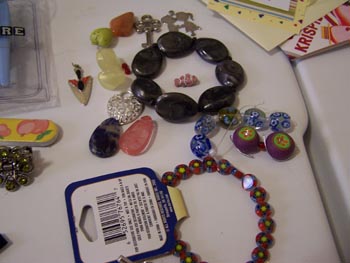 A mini manicure set, more cute emery boards, sticky notes, beads, awesome paper clips, cute little buttons (check out the colored pencil ones), little notebook paper charms, a thimble, a duck (probably one of my favorite items, for some inexplicable reason), a bear rubber stamp, pretty binder clips, a bejeweled hair clip, a mini bottle of Tylenol, and some felt stick-on numbers and letters.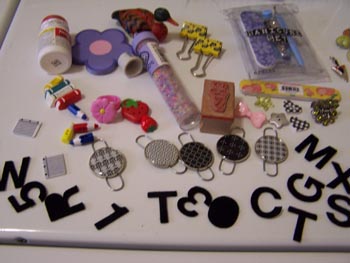 And, a shot of a very pretty bracelet! It's so perfect for Spring!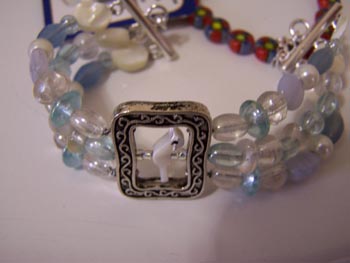 Thanks, Kristen! I hope you like your whimsies as much as I like mine! Thanks for being my partner!