And, I got my package from
christinacoghill
today! I'm supposed to be grading papers and on a temporary ban from Craftster until they are done, but since the ban is self-imposed, I figured that I could break the ban for a minute and post my pics.
Everything together...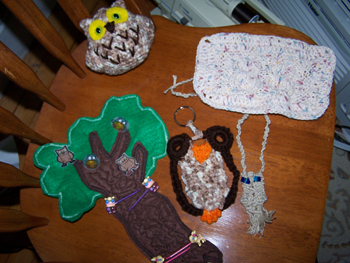 There's an adorable crocheted owl stuffie, which is going on my desk, a macrame owl necklace (nothing says retro like owls and macrame!), a crocheted owl on a keyring, a panel with 2 of the knitted owl cables (it has a crocheted border, and I just happen to have the same yarn, so I may attempt to crochet a hat around it!), and a felt tree with 2 pairs of owl shrinky dink earrings and a two pairs of hair clips (owls and baby deer). I love how the owls are perched in the tree!
Here's a close-up of the tree with the earrings and hair clips. And, try as I might, I couldn't get a clear picture of the owl cables.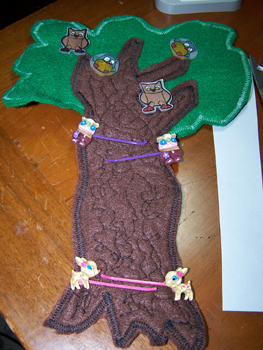 Thanks Christina for the great package!! Whoo-hoo!