HE LIVES!!!!
Okay, it only took me about 3 months, but my Frankenteddy is
finally
finished! Thanks to: Brianknits, Homerof2, Igobylorib and pinkstars69- (Team Pooh Bear) for sending such great fabrics! I had my doubts about what he was going to look like when I finally got it all together, but he came out way better looking than I expected!
I stitched his mouth and belly button (he has an "outie") on today, so he is officially done!
Front: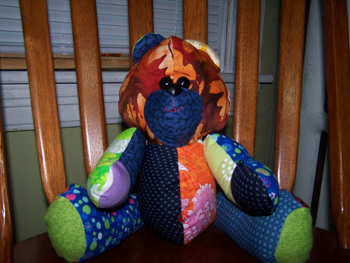 Back: