And, I made another one! But, I also gave this one away, so I
still
need to make one for myself! I modified the toes a bit so I wouldn't have to join all of the suckers as separate pieces and it looks okay. It does look better the way wibit wrote the pattern, but I was short on time so I cheated a bit.
Here he is sitting on the kitchen chair. The wood reminded him of a tree...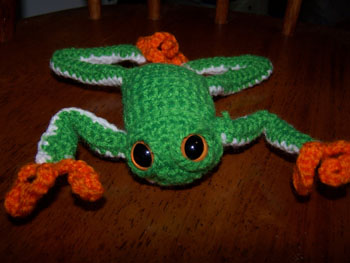 Thanks again, wibit, for sharing such a great little pattern! I love it!