I picked up a bunch of yarn last week, but school has started and my crafting time has been chopped drastically. And, this week, I've been so exhausted when I get home that I can't even think about crochet!
Before things got crazy, I did have a chance to write out the pattern for my first dishcloth. I posted it here along with the pattern:
http://www.craftster.org/forum/index.php?topic=193162.0
Here is a pic...it isn't perfect since I kept getting distracted. I think I added a couple of stitches near the end or at the very beginning...but it isn't too bad.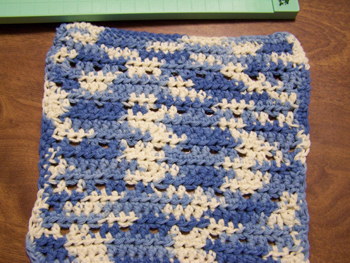 So now I am officially 1/50!