I'm so happy that you like your kit Sariel! I can't wait to see what you make!
And, I received my Melt & Pour Soap Making kit from
lapoli
! It's fantastic! I'll be making some soaps by the end of the weekend!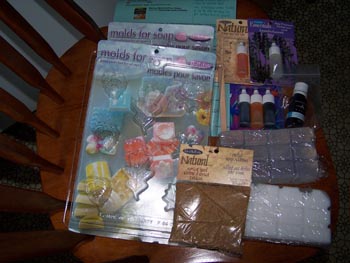 She included: 2 bricks of glycerine soap base; 2 sets of soap molds (one with leaf shapes!); 3 bottles of color; 3 awesome scents- green tea, lavender, geranium sage; and some apricot granules to add as an exfoliant. Oh, and directions of course, customized with special tips!
Thank you so much lapoli! I'll post product pics soon!