So, given that I'm a poor college student (who isn't?), I decided to only give gifts to close friends and my family: and even then, I've decided to make most of them. After all, I'm rather proud of my mad stencilling skillz (haha), and my family's pretty appreciative of such skills as well.
First off, for my father. He's always the hardest to figure out. So I just scrolled through the stencils at Stencilry until I found one that he might appreciate:
WHOLE SHIRT: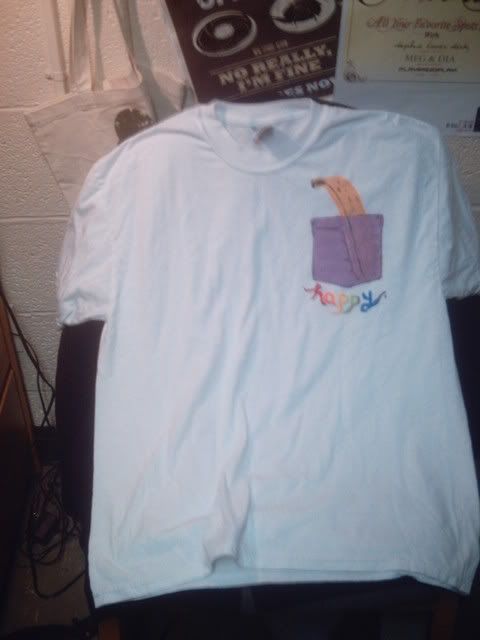 Stencil Detail: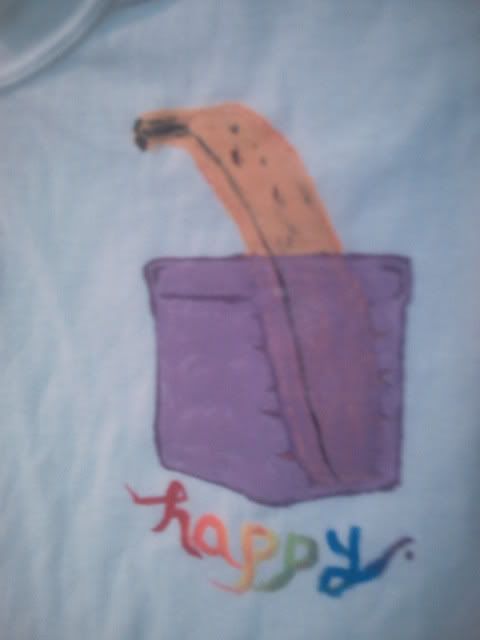 (FYI: He's actually gay, so the rainbow "happy" under the pocket can be taken both ways: as a reference to the "Is that a banana in your pocket..." and to the alternate meaning of 'gay,' I suppose.
My *other* father used to work for Lifetouch Photography, and every morning, I'd tell him to "shoot" lots of kids. ('Shoot' here meaning...with his camera! I don't condone violence! T_T)
Stencil Detail: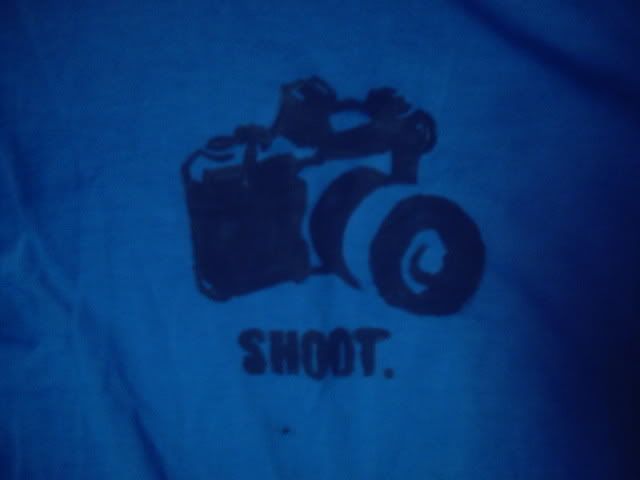 I'm not super happy with this one: it was the messiest shirt I think I've done since my very first attempt with cardboard and spray paint, but I don't exactly hate it. And, yes, that's a paint smudge.
Next up is my little brother. He loved Pirates of the Carribean, of course, so I figured a pirate-esque shirt was required. I made him a shirt last year, with one of his favorite sayings on it, and he still wears it, so I'm fairly sure this one will get at least a bit of wear. I might go back and try to freehand a bandana across the skull, but then again, I might not. What do you think?
Whole Shirt:
My little sister found a scarf on eBay last year, and asked if I could make it for her. Iended up not being able to--couldn't find the material or anything, and by then we'd both forgotten about it. So this year, I tried to make something similar. I actually like this one better. She loves My Chemical Romance, obviously. I freehanded the words, and I'm actually pretty proud, as they look at least a little like the font used on the actual logo, I think. It looks grungy because it's supposed to. Also, because it's really hard to stencil well on a felt scarf. The red stripes go all the way up the scarf.
Stencil Detail: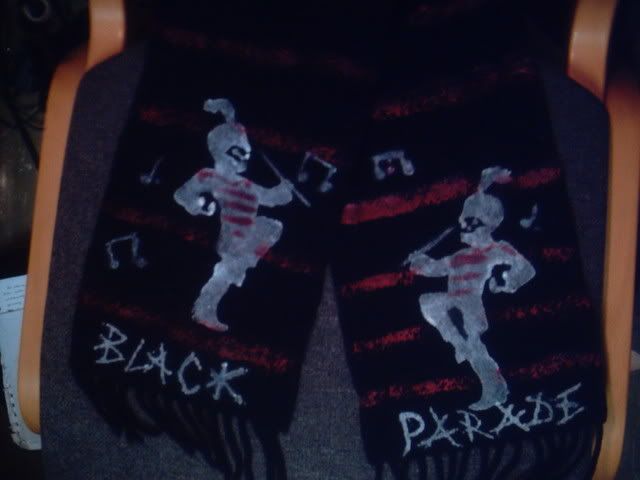 Finally, my roommate! She loves the color pink and The Beatles/John Lennon, so what else could this shirt have become? I found the strawberries on stencilry, and while playing with a layout for the text, I decided that it actually worked better (and would be easier to cut out) if I didn't put the word "strawberry" in. I'm really proud of this one.
Whole Shirt: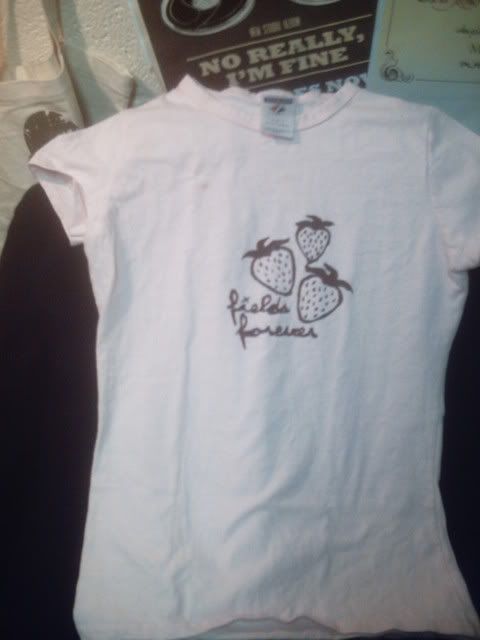 Stencil Details:
(It's actually a brighter pink in real life.)