First off, I got spoiled big time! Second, thanks to irid3sc3nt for creating the most doped up-hyper-insane cats I've ever encountered. It has been non stop chaos since i open this box of doom. Inside was: a GORGEOUS fleecelined-snakeskin printed jumbo cuddle cup, a uber soft yarn mat, 3 felted mice, 3 knitted catnip/crinkle balls, bag of moist treats and catnip(aka cat weed for my cats).
the Loot! JJ also notices and Taz had ran off with one mouse in his mouth immediatly, see future pic
" Ohhhh, I've never felt anything so soft"
"Attack the catnip bag!" You don't know how hard it was to remove this from him!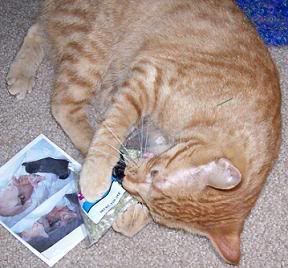 Taz in predator mode with mouse in mouth(doesn't he look like satan?)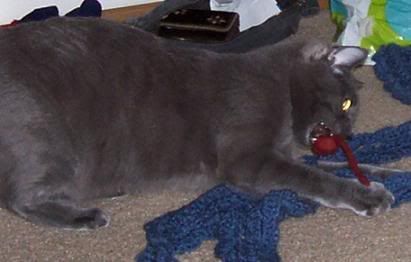 "It crinkles and has catnip?! I'm over joyed!"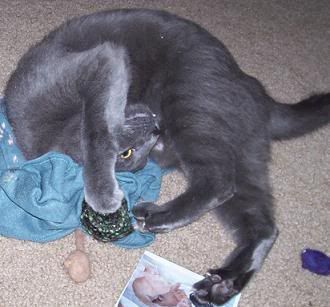 "Yaaaaa, a big bed and a new mouse for me!"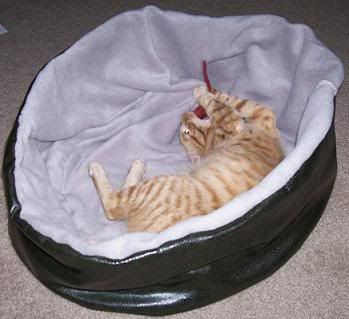 "Well I prefer the box myself" (notice mouse tail hanging out)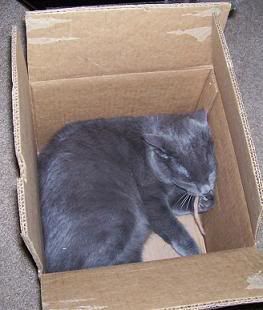 My new Tshirt and my 3 kitties on it