I don't stencil very often. In fact, I don't remember doing since school. But I was motivated to make this apron and just finished it today. It's an Ozzy Osbourned apron for a swap I'm doing, and DH really likes it. To the point where he said that he would consider wearing an apron if it had Ozzy on it, and suggested I also make one for a friend who has a birthday coming up. I really enjoyed doing it, and may make a few more in the future.
Here is the original picture, in black and white, and the stencil after I cut it out
OZZY!!!!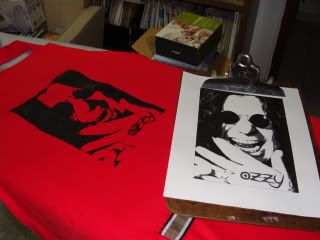 Some extra embellishment
After adding a bit of shading with a different shade of black with a bit of shimmer to add some dimension, here it is finished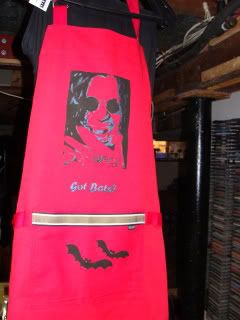 Here it is in comparison to the original again
BTW - the highlighting is not that stark in reality - the paint is another shade of black/blue with shimmer in it, and the shimmer really caught the flash of the camera.