I am particularly proud of this project because DH and worked on it together. We seldom work on a project together because he is a contractor so sometimes he just wants to relax on his free time. But his dad recently got licensed as a paralegal and started his own business. He wanted a sign for the house, since that is where his office is. I started woodburning last year, and suggested to DH that we could make him a sign together. I think it turned out pretty good.
DH had some gorgeous clear cedar that he laminated together to make a decent size, and routed the edges for me. I took FIL's business card and made up the lettering and burned it. I added some decorative maple leaves to the corners. I found his professional society's logo and added that to the lower right corner. We weren't sure if he wanted his number on the front of the house or not, or an e-mail, or whatever, so we made a separate shingle for the number. After the burning, DH verathaned everything, about 4 layers so it is super glossy. Everything is attached by brass chains and eye hooks, and DH made a cedar hanger so that it can be attached to a post on their porch and hung under the porch overhang in the front of the house. It is large enough to be seen from the sidewalk.
It was part of his Christmas present and I do think he liked it, and was surprised. I got permission from him to post the information; both he and DH agreed that it would defeat the purpose if I blurred out the information.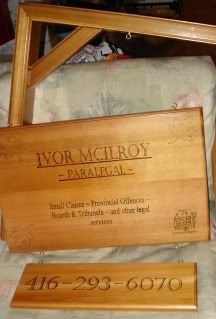 I can't express how much DH and I enjoyed working on something together - other than menial household tasks - it really became great bonding time for us too. He was so proud of it, he was showing everyone who came by the house. He's talking about us making a sign for his contracting business too now, and I planning the layout for that now.
What do you think?