Oh not weird at all! It is that little bit of order in chaos. Beads are also hyp...no... tiz....ing....
I could probably spend hours just going through my beads. I think I did for this swap! Pulled them all out, went through them all, got the stuff I wanted to send. Reorganized them all.... went to bed happy. Dreamt of beads. Woke up, went to bead store. Bought more beads. Reorganized, incorporating new beads, with old stash..... happy..... Got swap package.... went through new beads again.... added to stash...... happy.
I swear, if someone did research, they may find that beaders get an endorphin rush from handling their beads - especially if there are new beads involved..... happy......
Here are some different shots of the necklace and earrings I made. I really love those purple beads because of that deep colour and combining it with the jade stones. This was actually an updated recreation of a necklace I made for myself and gave away also in the past. I loved the deep purples and greens together. I wanted to recreate it for myself, but made it and gave it away again. I went back to get more jade donuts and the little rose decorated glass beads to make another for myself, and they did not have any :C I am just not meant to have this necklace for myself.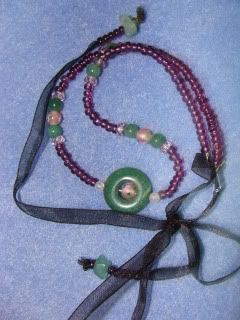 The earrings I made from stones I bought from a bead show, which is why they don't match, but I felt that the necklace needed something to accompany it and I had nice donuts and the double holed square stones too. I had originally bought about 7-9 of the lighter donuts to make a bracelet with.