OK, here are pics from the package I got from Sarahbug. Lots of pics......
First off, the necklace and earring set she made me. I really like this - it's various beads wrapped on wire. Unusual, eclectic, and quite delicate looking. I may steal this idea
So very pretty! A great way to use odd or small amounts of beads that would not be enough to make a bigger project too.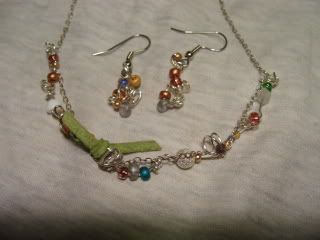 And my soup:
Lots of really neat little bits and bobs in there caught my eye right away: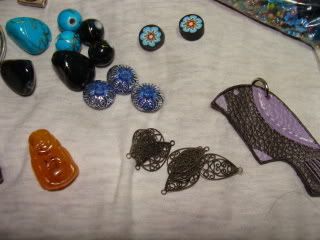 I love that little leather birdy - I saw part of that sticking out of the soup and wondered what the hect that was. He's adorable! Love the little metal filigree pieces, and that cute little Buddha. The paint embellished glass beads are really pretty too.
Am loving the little charms, and other goodies. LOVE that big silver floral pendent, and the copper leaf/flower, and those cute cafe charms too!
Thank you so much sarahbug, and to jennieingram for organizing this swap. It was a nice, quick, fun one to make and receive for. My only regret was that I limited myself to one partner. Now I really wish I signed up for two!