My husband and I moved about a month ago and our new place doesn't have many windows and the bedroom is especially dark. It was really hard to get up in the morning cuz without the light it felt like night time. So my husband and I decided to make an artificial sunrise. I made this lamp with an extra bright 200 watt bulb and he (being the computer genius that he is) got some home automation stuff and turned it into an alarm clock, of sorts. He made it so that 1/2 an hour before we want to get up it starts to get slowly brighter and brighter. At wake up time it's on all the way. And, can I just tell you, it makes it so much easier to get up!
Anyways, here's pics of the lamp: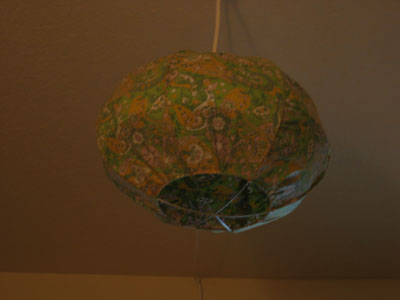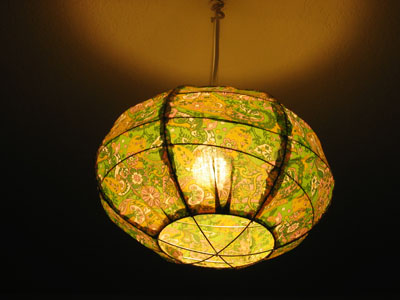 I made it out of some heavy gauge steel wire and I got the fabric from a thrifted mens shirt. The fabric is wrong-side out so that when the light is off it doesn't look quite as flashy, but when the light is on it looks right-side out.
I'd love any comments or constructive criticism!