Hey, y'all! I sent my package to redheadskydiver today... and I received her package just before I mailed! Check out the goodies she sent my way!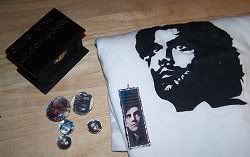 That's the whole kit and kaboodle. So let's break it down: The black box in the upper left isn't very photogenic. It's a gorgeous hand-painted box with puffy letters across the top that says "Save The Cheerleader", but any time I try to take its picture, all you get is a white light over the top. Hey, maybe that's its gift.
Here's the inside of the box: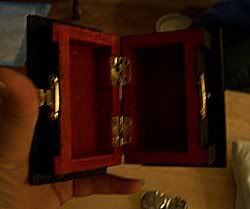 She put a set of magnets inside the box too. Again, with all the shinies, it's hard to see the two with the group shot. The ones on the bottom row are of Mohinder, Hiro, and Nathan.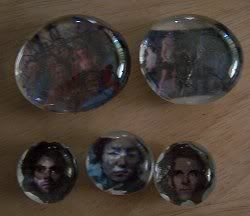 For the larger crafts, she focused on my favourites. I really like Hiro and Peter, so she made me this cute pendent with a hero on each side.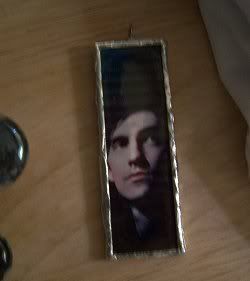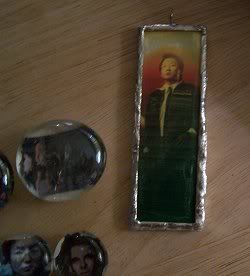 I've liked three characters pretty equally throughout season one... until toward the end, when I realised just how much Mohinder stand out in my mind. I really like Hiro and Peter, but Mohinder is my absolute favourite. And redheadskydiver made me a T-shirt to show it.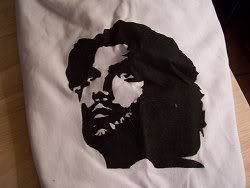 Thank you so much! I hope you enjoy what I sent as much as I'm enjoying what you gave me!