As I've posted here before, my mother is a rabid Adam Lambert fan. Slowly Glambert-related crafts have started to take over my life, as I try and lay aside Adam crafts for her birthday and holiday presents. This is one of the latest:
Aww, so small!
Sorry for the bad lighting, I live underground and it's almost midnight here.
He's 14cm (a bit over 5 inches for the Americans
), and made mostly from felt. His top is made from some glittery tights I had, and his trousers/pants from a fancy elbow-length glove I had (I lost the other one in the pair, so what the heck). His coat is felt, and the trim is a malibou boa that I trimmed down - it was too furry as it was, the feathers obscured his face. His eyes ar size 9/0 seed beads, and his bling is some chain I cut up and sewed in place at the back of the neck. The belt is a chain from a keyring!
I'm quite pleased with it - I used and adapted a doll pattern from Runo's Nuno Life blog -
http://nuno-runo.blogspot.com/search/label/Doll
- but the clothes and coat are my own pattern. When he's wearing the coat, he actually stands upright by himself
Looky, his jacket is removable!
Some 'in-progress' shots: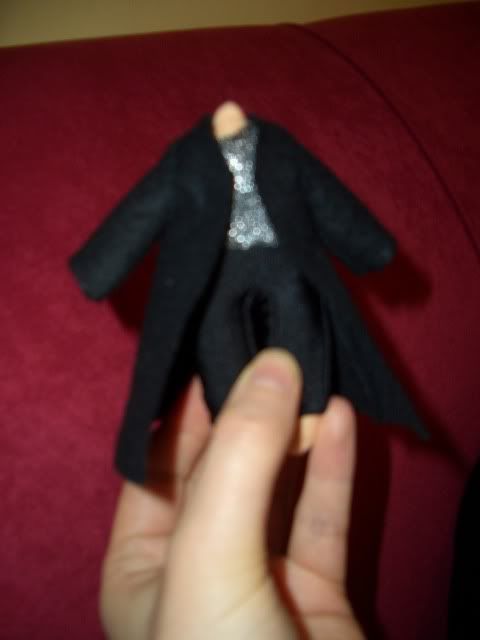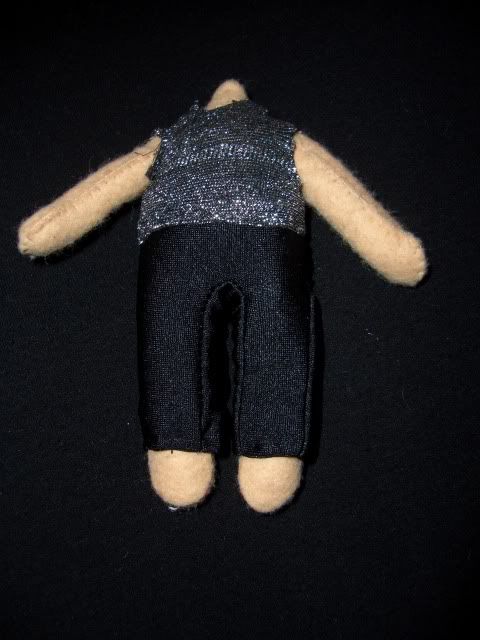 I'm toying with 2 ideas:
1) I thought I might put a little loop on his head so my mum could hang him up if she wanted to
2) I also thought about making him a little top hat - I've seen pictures of him with a top hat with an (inaccurate) scarlet letter on it*, I thought I could do one like that
* Seriously costumey people, read past the front cover! It's a gold letter A on a scarlet cloth, not a scarlet letter A on black. What's that about? I've never once seen it rendered accurately.
Do you think either of those is a good idea? I think they'd probably be mutually exclusive, or I'd have to sew the hat on his head so the loop didn't pull it off. What do you think?
Thanks!