It's not the most original idea in the world, I realize, but it works great. I bought a rather large watering can, and misplaced it (kids kept getting at it, and making lakes on the floor, so I put it up so they wouldn't be able to get at it, and I can't remember where I put it). My smaller watering can doesn't have a sprinkler top, so the water just pours out (think tea kettle).
Anyway, I needed to go out and take the frost covers off the plants, and figured I'd water the plants while I was at it. I happened to have emptied a gallon jug (~4 liters) of milk at breakfast, and thought it might make a good substitute. Most milk carton watering cans tend to have the holes in the lid, but I put them along the top. There's one hole at the top of the handle (to let air in, since it's didn't work that great without it), and a bunch (20?) holes along the top opposite the handle. I used a metal kebob skewer to make the holes, and it worked beautifully.
There's a picture of it sitting in the sink (with the holes in the top. The air hole is at the top of the handle):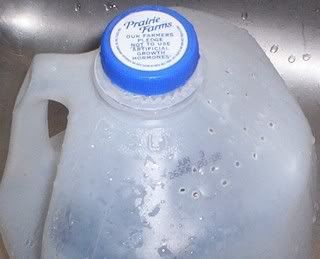 And one of it sprinkling water:
If anyone needs a picture to visualize what I did, I'll try to get some taken this afternoon (when the teenagers get home). It was really fast, really easy crafting. The bonus: it works better than my old watering can.