I received from Bunnyface! And she is TOO METAL FOR ONE HAND! \... .../
First, the group shot: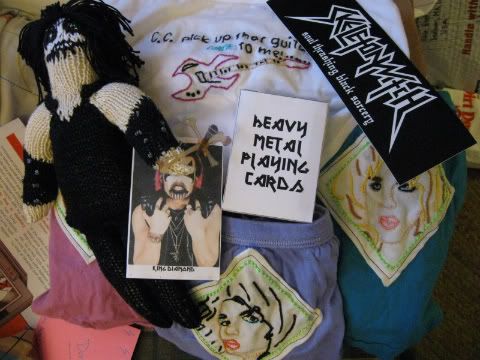 Yes, you saw right, those are a pack of Heavy Metal Playing Cards.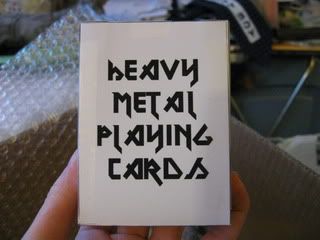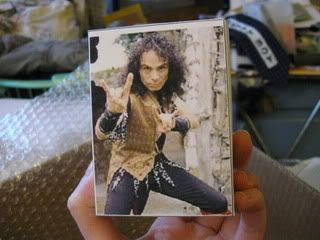 With Dio on the back, of course.
These are totally amazing. Every single card has a picture of a different band on it, and you can tell Bunnyface put some thought into who was on which cards. My favorites: Lemmy is the Ace of Spades, Girlschool is the Queen of Spades, Iron Maiden is the King of Spades. King Diamond is the King of Diamonds. All the Hearts are Hair Metal. And the Jokers are Spinal Tap and Dethkolk! (I'm really happy that she included a chart to list who's who!)
Bunnyface knew that I collected quirky plushies, and that I really wanted a metal singer plush. I didn't know so many other people would want them, too, haha! She made me King Diamond!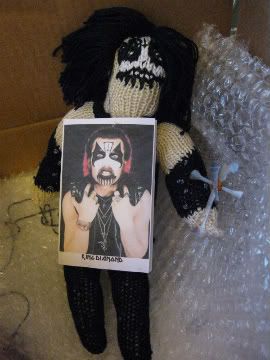 Complete with a little book of fun facts! And he's even got his leg bone cross mic handle, which made me incredibly giddy. I've been carrying him around since I got him, haha, and my metalhead fiance and metalhead maid of honor both think he's amazing.
Another thing I collect is quirky underoos. I mentioned this, but figured that making underoos for someone else might be awkward, so I really wasn't expecting FOUR PAIRS OF AMAZING EMBROIDERED PANTIES!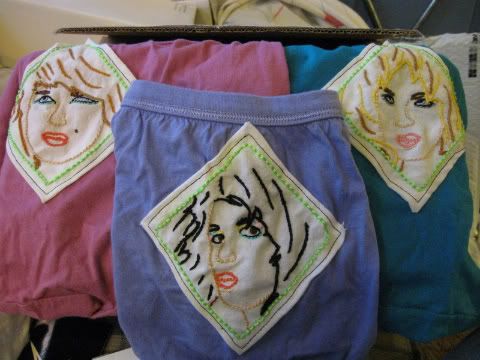 Three of them have the faces of members of Poison on the back, and their names on the front. But, you ask, aren't there four guys in Poison? Included was a note (which cracked me up) which read, "Sorry we didn't come as a band - C.C. is onstage playing a solo. He'll join us as soon as he's done shredding!" Apparently, he wasn't finished in time, so that pair will be along later.
I had no idea how Bunnyface would work in my favorite Poison quote, but she, brilliant craftster that she is, made it into the coolest pair of underoos I may ever wear.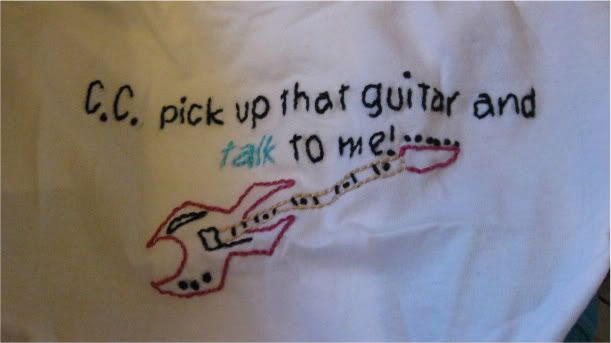 I absolutely love that the word "talk" is in bright blue, 'cause when Bret says it, he totally squeaks on that word.
I told my brother about how normally, when we get clothing in swaps, we do action shots, but I didn't think I'd be doing one for these, and he suggested modeling them as headgear.
Is it bad that I was tempted?
I tried not to get too pic heavy, but if you ladies (and gents, if we have any) want to see more, I'd be happy to oblige.
[/color]