I received from my fabulous angel, themuppet!
Action shot of the first two items out of the box: a tetris-block necklace, and a fab black t-shirt that says "i grok." Heinlein FTW! (I'm not crazy about this picture of me, but I kept interrupting my fiance's reading to show him the next thing I'd pulled out of the box, and then he took this pic for me, so I didn't want to make him take another.)
I asked themuppet if she would make a folder to hold my checkbook, register, and possibly also my little pocket calendar, and she said she'd do her best. And boy, did she! I totally love the old-school Mario theme.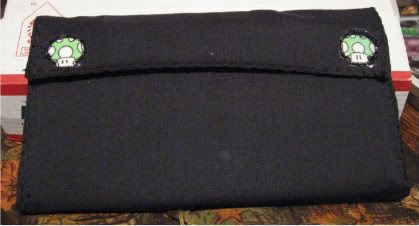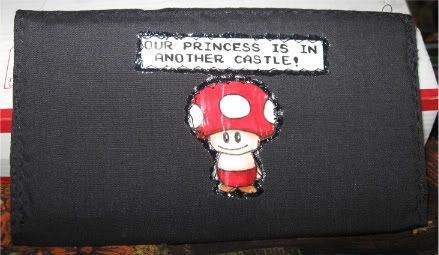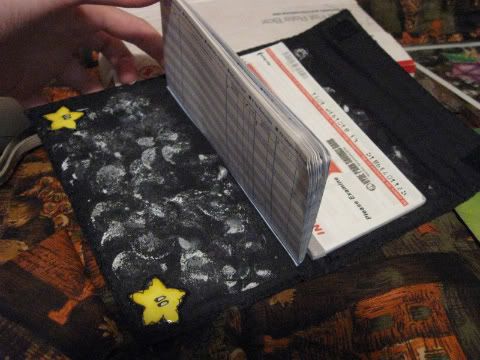 I put the three items in immediately, and they fit beautifully! I had been keeping them in an old paycheck envelope, which was disintegrating inside my purse. This is a BIG step up, haha! The front flap has 1-Up mushrooms over where the velcro is on the inside, and the back has Toad (my tied-with-Luigi-for-favorite character) and the words "Our princess is in another castle". Did I even tell you how often I make jokes with that line? The inside has a fun splotchy pattern, and stars on the other side of the velcro patches.
And last, but CERTAINLY not least: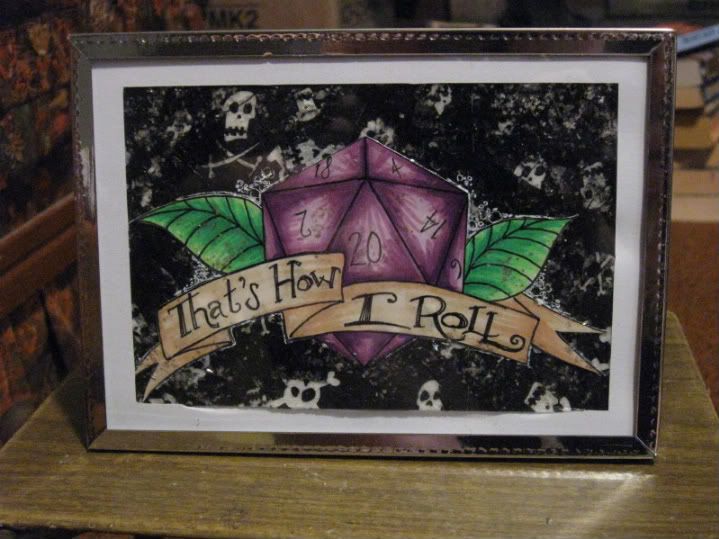 This little piece of framed artwork has already found a home on my bookshelf/headboard. The picture doesn't do it justice. The colors are so vibrant, and it's speckled all over with silver, and it just looks totally amazing. I am seriously tempted to just carry this around with me, hahaha! I am definitely taking it to my next D&D session, to show it off and make my friends jealous.
Thank you SO MUCH THEMUPPET!!!!