Post pictures of your awesome dorm room in this topic!
I'm a junior this year and I finally have my own room to decorate however I want. My parents bought me a bunch of hot pink stuff freshmen year so I decided to work with that. I was going for something fun and bright, like I don't have to be a boring adult just yet...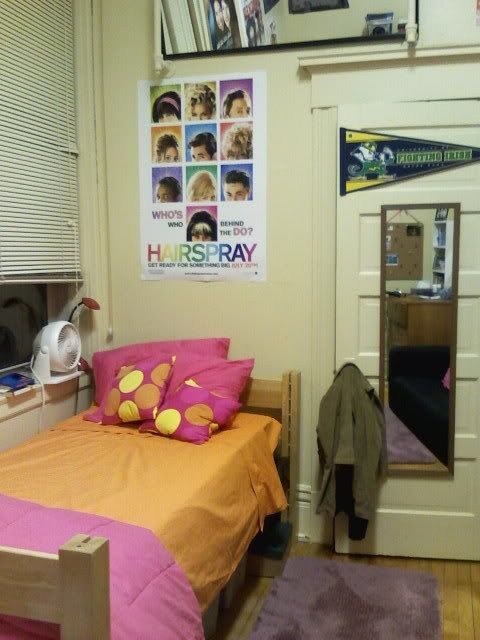 I already had the comforter and pillow cases. I got the throw pillows from that cheapo section in target for $1.50 each. Sheets on sale for $13 at target also. Can't wait for this year's toga party... how hot am I gonna look in an orange toga? haha. I had an extra mirror, so I just stuck it up there cause I don't really need to see myself that often...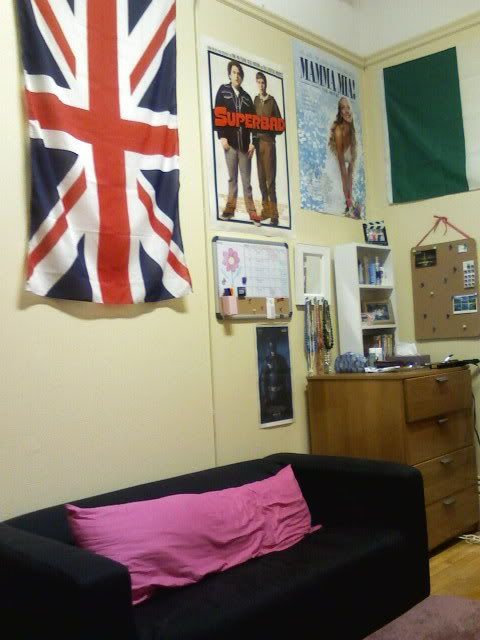 I got this tiny little sofa on craigslist. It's the perfect size (it fit in the elevator, thank god), and the black slipcover is machine washable. Big pink pillow on sale at target. I got my posters for free at the movie theater where I work, and I got the flags on my trip to europe over the summer. The batman got milk ad was in USA Today and I already had the white board calendar.
I made this shelf out of scrapwood I found in the garage! I used power tools all by myself and I'm very proud of it, even though it's simple and basic. I'm still waiting for someone to say "cute shelf" so I can brag about it, but it hasn't happened yet....haha. I found that cute little mirror with necklace hooks in a box of old junk in the basement.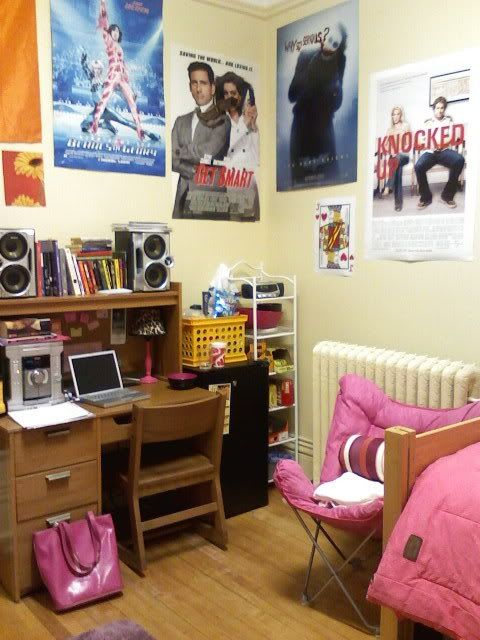 I haven't gotten a tv yet, but when I do it's going on top of the desk and the books are relocating to the middle drawer. I made that lamp out of a shade from a garage sale and a base from goodwill. There was no frame so I made one out of coat hangers.
The chair was $20 at target (last thing I got there, I swear) and it was the last pink one left. It's super comfy and it just folds up if I need to move it (like when that radiator kicks on in the winter...) I also have an old bean bag under the bed if I need more seating.
frigde. food. dishes. I got some adorable plates and bowls for $1 each at hobby lobby at the end of the summer. I guess they were the "outdoor summer dishes" which for me just means they're colorful and durable... big popcorn bowl, four plates, four bowls.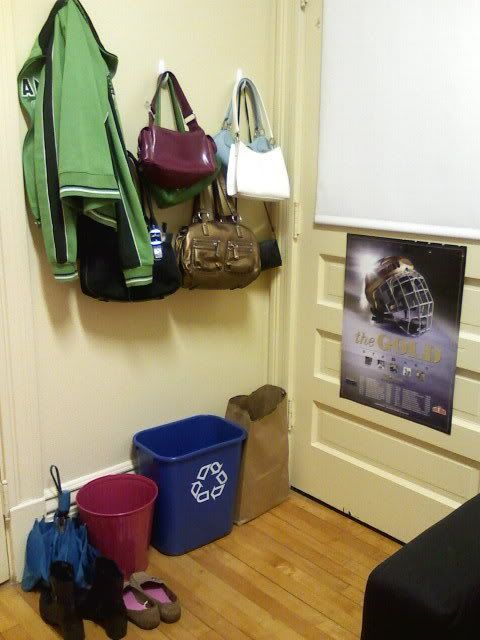 You have no idea how useful these hooks are. I highly recommend them. I'll probably get some more...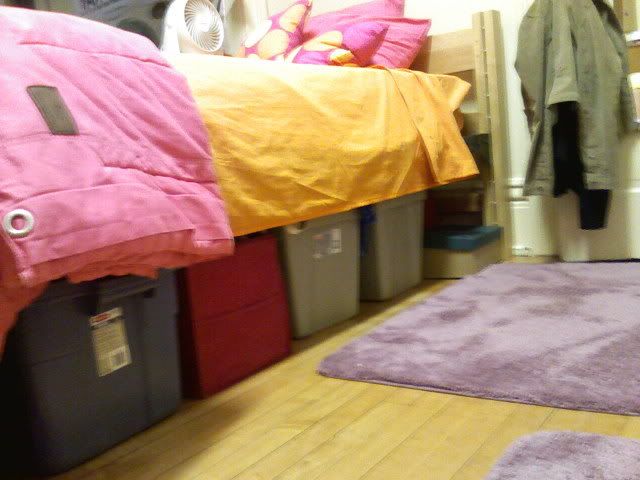 I keep so much stuff under my bed, it's crazy. Oh, and I got those rugs on sale at bed bath and beyond. They're bathroom rugs so they don't slide around and they're easy to clean.
Yeah, that's probably more information than anyone needs, but I'm proud of my thrifty, creative decorating skills. And I'm really excited to have my own room.
Let me know what you think and post pictures of your own awesome dorm room!