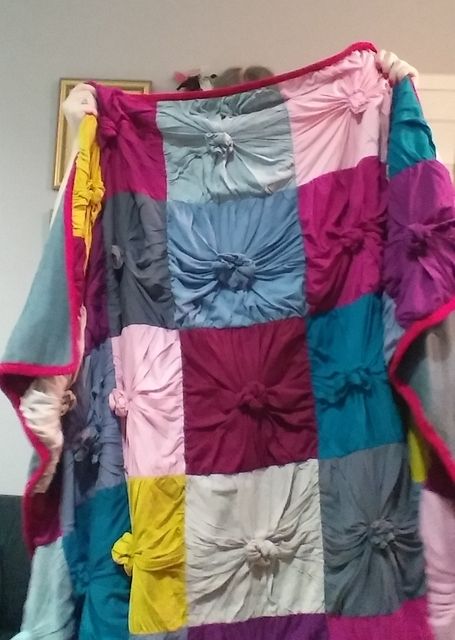 I'm really excited to finally share this! It's my own version of the Anthropologie rosette quilt, made from old t-shirts!
It's gloriously soft and dangerously cozy. I used only the softest old tees from my stash. Remember back when those slinky "tissue tees" were really trendy, even though they were awkwardly somewhat see-through and lost their shape after a month? There's also a dress and a skirt in the mix too. (Nothing like a colorful quilt to justify my hoarding issues!
)
Each patch is sewn on top of a square of woven cotton (cut from old button-down shirts), which stabilizes the jersey so it doesn't get stretched out along the seams. The backing and binding are super-soft jersey fabric from Mood. It makes the quilt a little heavy, but I love how it's all drapey and decadent. It won't lose its shape though thanks to the stabilizing squares inside, which also allowed me to skip the batting.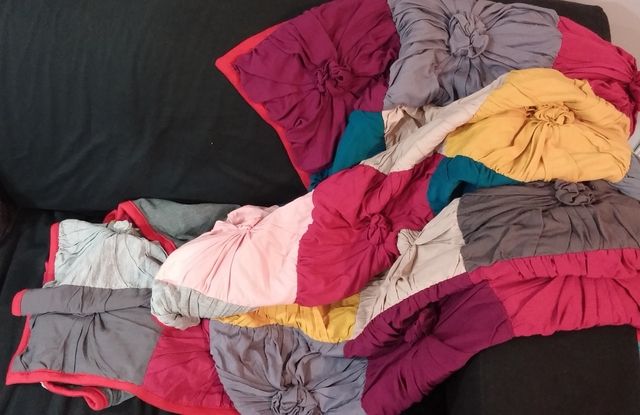 Okay so, confession time... It's not exactly a legit "quilt" because it's tied (with multicolored ties!). But if we're going to be technical, the binding at least is "quilted" through all the layers, so that means I can call it a quilt if want. Right? Right?
Confession #2: I actually finished the quilt about a year ago, all except for the binding. Now I know most quilters tend to put their projects aside for a while before finishing (I like to call it "aging" the quilt, like a fine wine). However, with this quilt, during that year without binding, I... uhhhh... still used the quilt once in a while, even with safety pins all over the sides. Not my proudest moment, haha. But now I'm very proud to finally show off the finished product! And use it without guilt!
Confession #3: I'm already dreaming up the next one! It seems like this design could work with any light-weight fabric, so I'm thinking I might try a full-size version in mixed satin prints...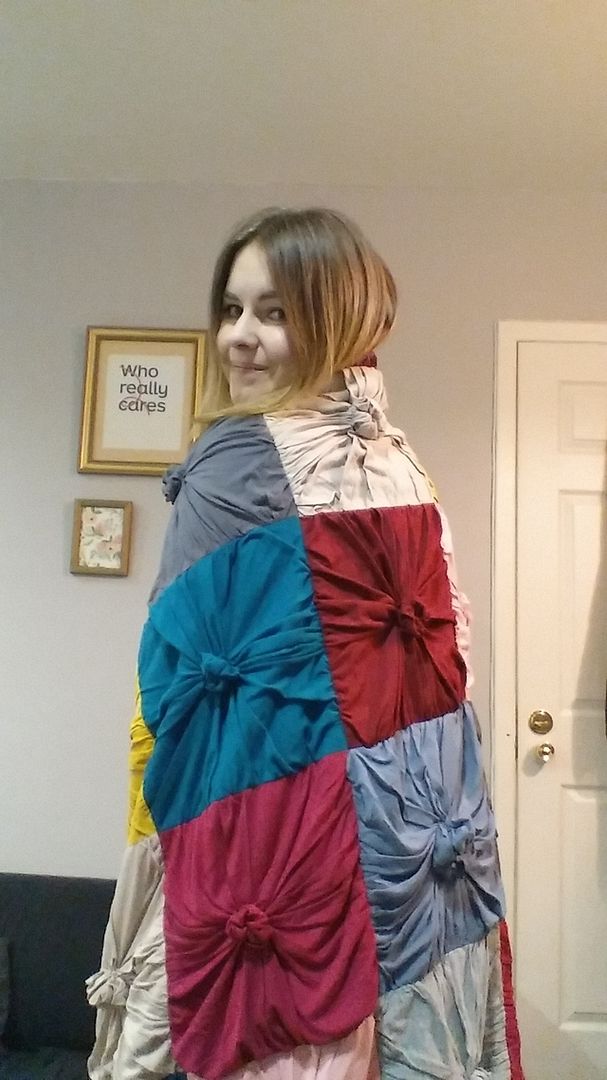 Thanks for looking!