---UPDATED---
I finished sewing the quilt top!!!! Behold!!!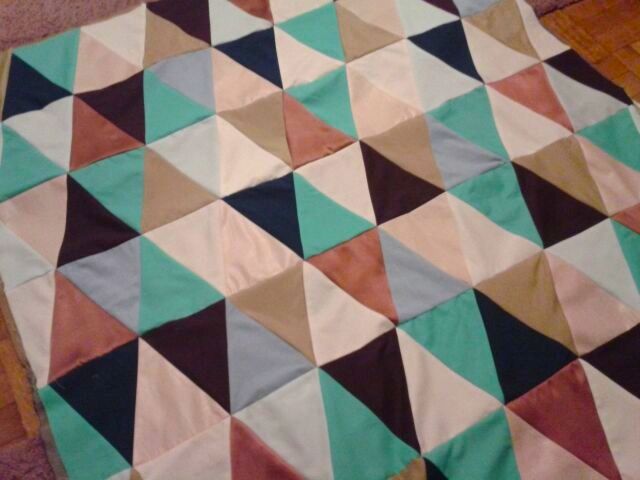 I actually love how the silk turned out! I like that little shine it adds. It was a pain to work with though... I ended up backing all the silk pieces with an extra triangle of cotton for stability (and sanity). Maybe I should have done the same with the polyester... too late now, CAUSE I'M NOT TURNING BACK!!
But now I understand why most quilters stick to 100% cotton. I used to think it was just a pretentious hobbyist sort of thing... but no. Out of all the fibers in this mess of a first quilt (top), the cotton was the kindest to me. Two of the poly blends were okay, but most of them were finicky, and one of them will never relinquish its wrinkles, even though I steam-ironed it! (Though I guess that's why I decided it deserved to be a blanket rather than clothing...)
So now my plan is to quilt "in the ditch" by machine. I think it's small enough and thin enough for that. Though I really have no idea. And binding? I'll figure it out.
But first I must acquire more ivory thread. Quilts use SO MUCH thread.
---OLD POST---
I'm a long time sew-er, first time quilter. I'm making a quilt out of scrap fabric and a few old clothes (something that will hopefully look similar to this--
http://www.flickr.com/photos/ohsohappytogether/7441739272/
, but probably smaller.)
Most of the stuff I'm planning to use is cotton/poly blend. A few are 100% cotton. The problem is, there are two colors that I REALLY want to have in there, and one is 100% polyester and the other is 100% silk. It's all machine washable, so I'm not worried about that. And they both have a matte finish. But they have a different thickness, drape, and feel than the other fabrics, so I'm worried it might look silly. But I CAN'T sacrifice my beautiful color scheme!
It's just a "scrap quilt" so it doesn't have to be heirloom quality, right? And I'm probably going to love it no matter what, right?
Has anyone ever mixed fibers like that before? Any regrets? Should I just go for it?