I made this cute little purse out of the box from an old Cinderella tape. It's lined with material from an old pillowcase and decorated with some old ribbon and lace I had lying around.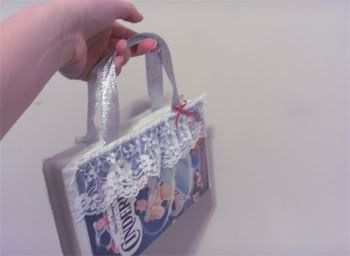 Front-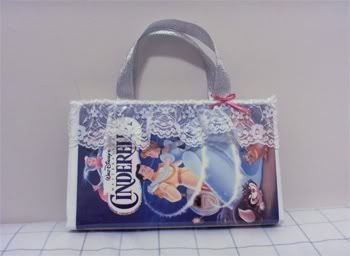 Back-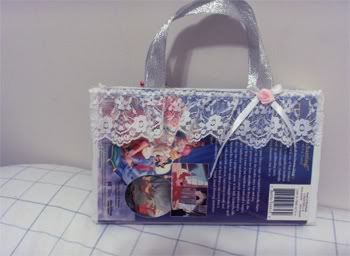 Inside-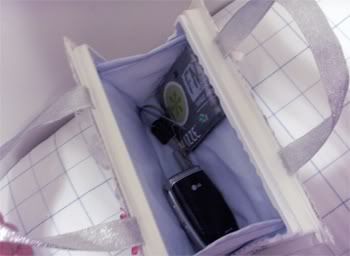 There's only enough room for the essentials- phone, keys, duck-tape wallet. It's so cool though, and it was really easy to make.
Can I enter it in the "Nifty Thrifty Challenge" on the completed projects forum even though its a re-con?
-Tutorial-
I'll try to make this as clear and detailed as I can...
1.) Find a vhs box from an awesome movie (preferably Disney because their boxes are so neat).
2.) Sew a lining. Their are five pieces. The two big rectangles are the same size as the inside of the rim on the box plus an inch or so for the hem on top. The trapazoid-ish pieces are 2 1/2 inches on the bottom and about 5 inches on the top (about 6cm and 12cm for metric craftsers). The angular sides are the same length as the side of the big rectangle (don't forget to leave room for the hem on top). The narrow rectangle on the bottom is 2 1/2 inches wide, and the same length as the side rectangles (about 7 1/2 inches, but you're better off basing your measurements on your box). Hem the top of the two trapezoids and two side rectangles to fit in box. Sew all the pieces right-sides together. Check to make sure your lining fits your box.
3.) Plug in your hot-glue gun (If you don't have a hot glue gun, go buy one cause they rock). While it's warming up, pick out some awesome lace, ribbon, rick-rack, etc. for straps and decoration. Mark where you will put the handles (I measured so they wouldn't be crooked).
4.) When the glue gun is ready (mine takes a long time!) glue your lining in around the edges just inside the rim. Make sure you can still open and close the box, but then leave it open for a minute or so to let it dry.
5.) Keep that glue gun hot though, cause you're still gonna need it! When the lining is dry, close the box and glue your handles on. Next, get all your ribbon, lace and trimmings and just go to town with that hot glue-gun!
6.) Take your purse to parties and let everybody envy your incredible taste in fashion. Don't overestimate how much stuff you can fit in it though. It's quite small. Enjoy! If something's unclear, just ask!