Wow, this is so inspiring! I'm such a scrap whore. I save all the little pieces even though I rarely find something to do with them. As soon as I saw this I just had to give it a try. Check out what I've got so far--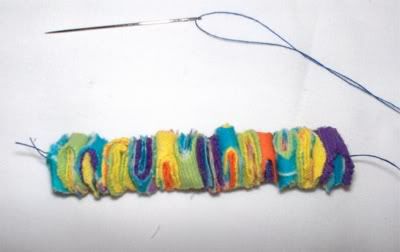 I'm trying to use lots of bright colours. The great thing about this project is you can make the necklace to match the clothes that you've already made out of the same material.
Mine is a little thinner than yours. I had a lot of thin strips of scrap fabric that I wanted to use up. I kind of want to make it a long necklace, but it tends to shed little threads and I don't want those to end up all over my shirt. Hm. We'll see.
Haha, thanks for the inspiration!