I'm so proud of this coat! Ahhhhh! I want to wear it EVERY DAY! And I CAN! Because it's a coat, and that's socially acceptable!
BUT... all great things come at a price. There is a darker side to my story. For in order to bring this beautiful coat to life, I had to commit a murder... I had to hunt down and slay this wild beast of a thrifted pantsuit ---
http://i55.photobucket.com/albums/g157/lancaster5/Photoon2012-10-08at21224.jpg
It was a gorgeous gray tweed in 100% virgin wool. That's right! No slutty sheep in THIS coat!
So after the virgin suit sacrifice, it was simply a matter of cutting off the jacket at the waist, turning the pants into the skirt part, and adding more buttons. Oh yeah, and overcoming my enormous fear of failure EVERY STEP OF THE WAY. And perfectionisting all over the place - taking in the sleeves & waist to fit better, hand sewing keyhole-button-holes, making welt pockets for the first time, and ironing EVERY seam. But it was worth it. Cause see how dapper I look!
Mirror shot to show the length: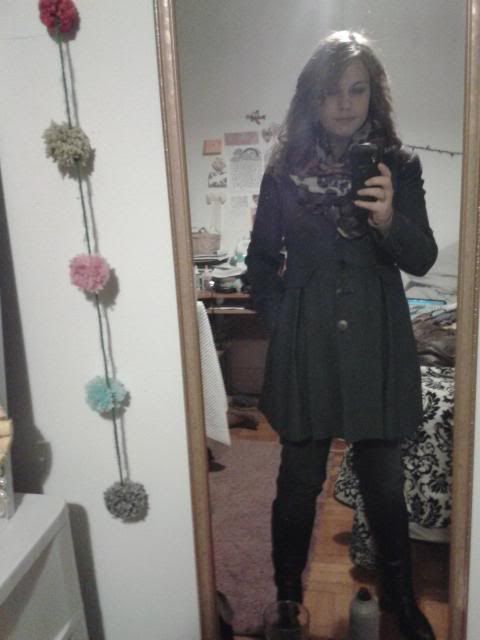 And another flirty over the shoulder shot... I feel so flirty in this coat!