I love how you've even used organsa to replicate the sheer membranes. It's very cool. Is it to scale? Dumb question, it'd be a bit small then! How big is it?

I certainly don't think it's to scale (in proportion); that's a level of accuracy that I could not hope to aspire to. I could pursue anatomical accuracy to the Nth degree, but I think I should work out the facial issue first. But, to answer your question, he's this big: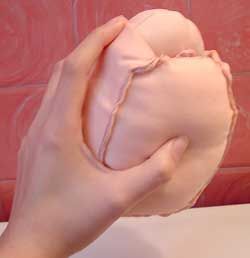 It freaks me outt!!!! Ok it's well done and all, but seriously it give me the creep so much... Am I that weird? Or is there also some of you who cannot stand to see this kind of thing???
(I don't mean to offend anyone, I'm just curious to see if I am the only one...)

I'd be disappointed if there weren't some responses like this posted.
Different strokes for different folks. I think the Bodyworlds exhibit is the most beautiful piece of art I've ever seen, but I have friends that think it's profane. Insects and corpses are fine with me, but the idea of having a little fetus popple of my own*, now that creeps me out. Go figure.
*No disprespect to the mothers out there, rock on with yer crafty selves.