I finished a Christmas gift for a friend tonight that I am SO EXCITED ABOUT! I converted a Guess Who game that I picked up from a thrift shop for two bucks into a Sopranos edition of the game! (I realize that these products are copyrighted and all, but it's not for profit.) I'm super proud not only because I think it looks sweet, but because it was one of those things where I bought the game months ago with this idea, and in the back of my mind I didn't really believe I'd ever get around to it. But it's done!
Here is the whole game laid out: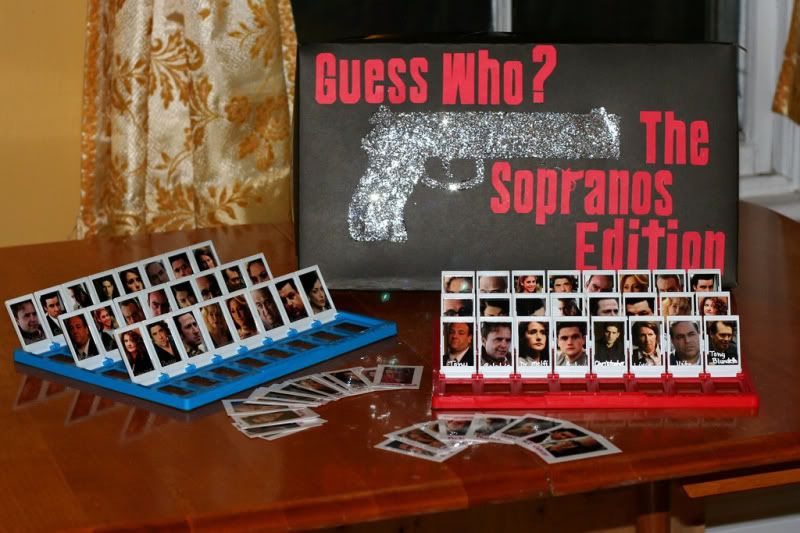 I interneted the character photographs and resized them all to the size of the little flippy things on the game boards. This was a huge pain for me, as I'm not very computer-savvy and had to do each one manually. I'm sure there was an easier way, but I didn't know it. Then I took the files to a print shop to have them printed on cardstock, since I don't have a printer myself. I painstakingly cut each one out and wrote the name of the character on it. Then, because I'm too cheap for lamination, I PAINSTAKINGLY covered each one in a layer of packing tape to protect them from Sally's grubby fingers.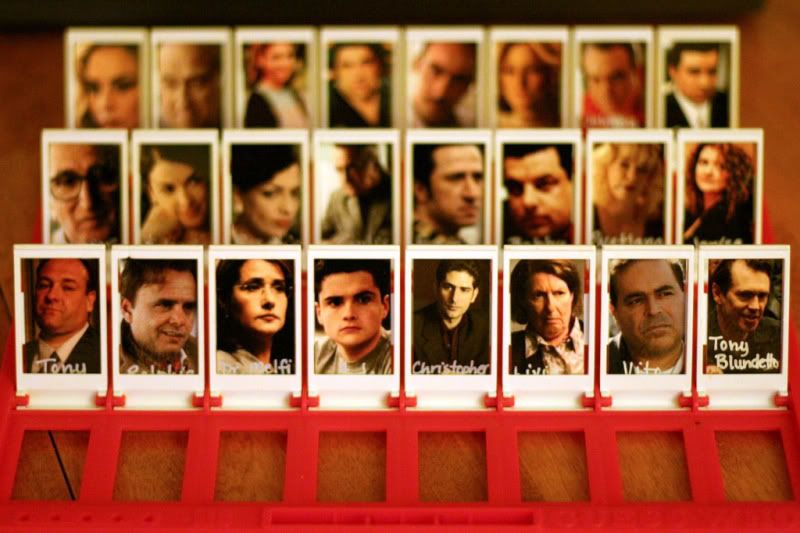 In retrospect, I wrote some of the names too low to the bottom of the face cards, so some of them are kind of hidden behind the little white frames. But if you don't know the names of these dudes, your license to play is REVOKED.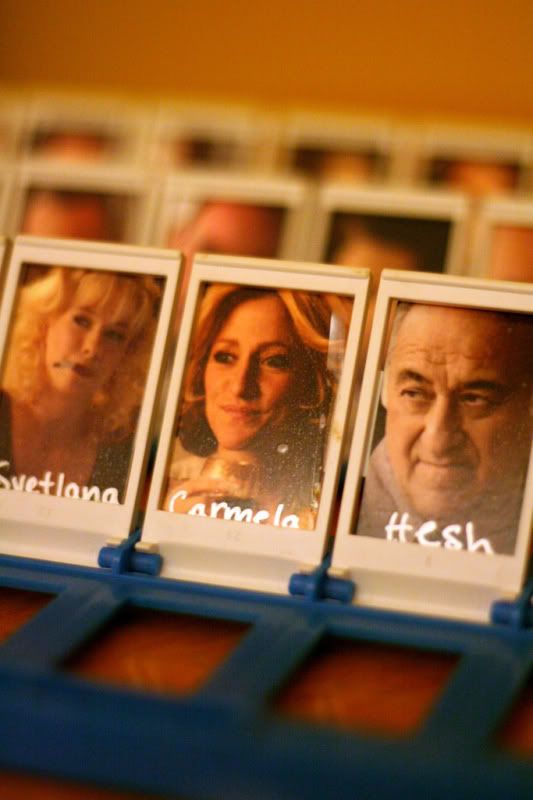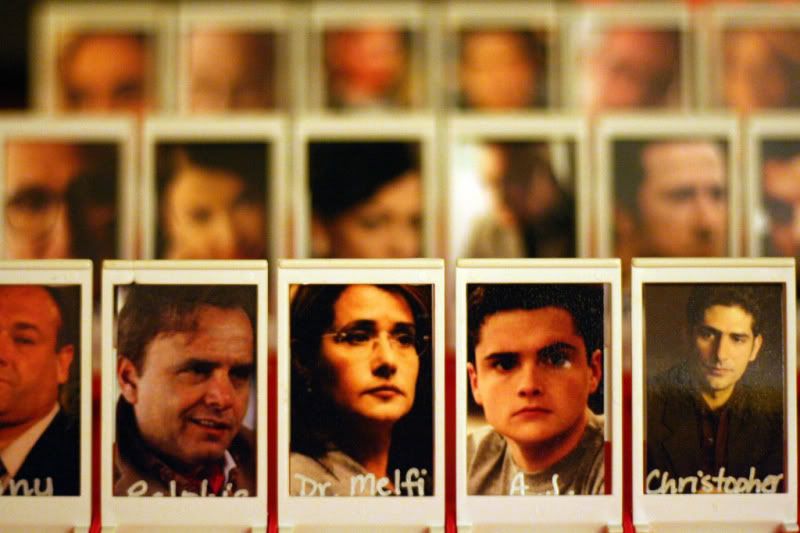 I also printed an extra copy of each character photo for the cards, and covered the cards with tape, as well. Another retrospective thought - I wish I had not used a Sharpie marker to write the character names on the cards, as it kind of bled through the cardstock, and if you really wanted to cheat, you could probably at least see the length of the name on your opponent's card. If I get a chance, I might add an extra layer of cardstock, and then, I GUESS, have them laminated.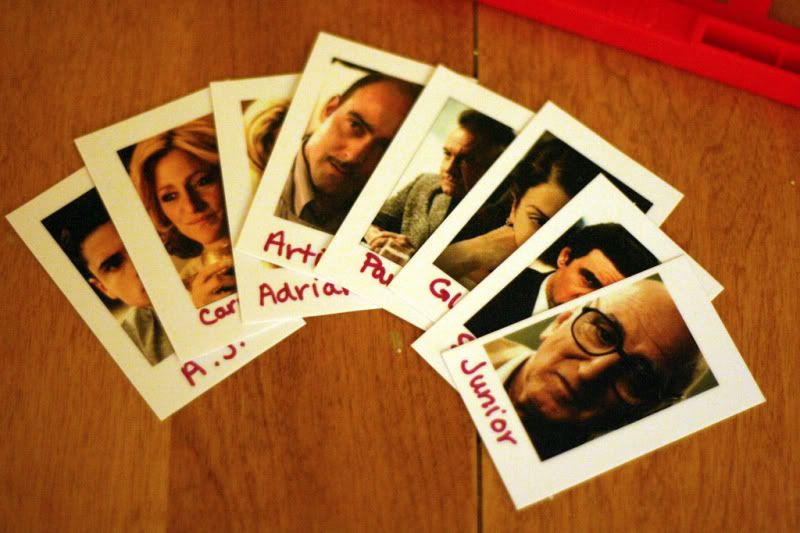 The box is pretty much my favourite part of the whole craft. I'm SURE most folks would know how to download a free font, but I definitely couldn't. So instead I found a "mobster" font, went to the alphabet page, took a screen capture of the page, and manually enlarged the letters I needed in Photo House. This made them all pixelated, but I just manually traced around the edges, and carefully handcut all the letters (check out that tiny gun "R" - it took forever!) I freehanded the big gun (SNORT) based on the gun in the font, and covered that S.O.B. with silver glitter. And seriously, folks, I am not generally a fan of gun motifs in crafting, but I am super proud of the way that one turned out. Also, it's The Sopranos... a gun is necessary, obvz.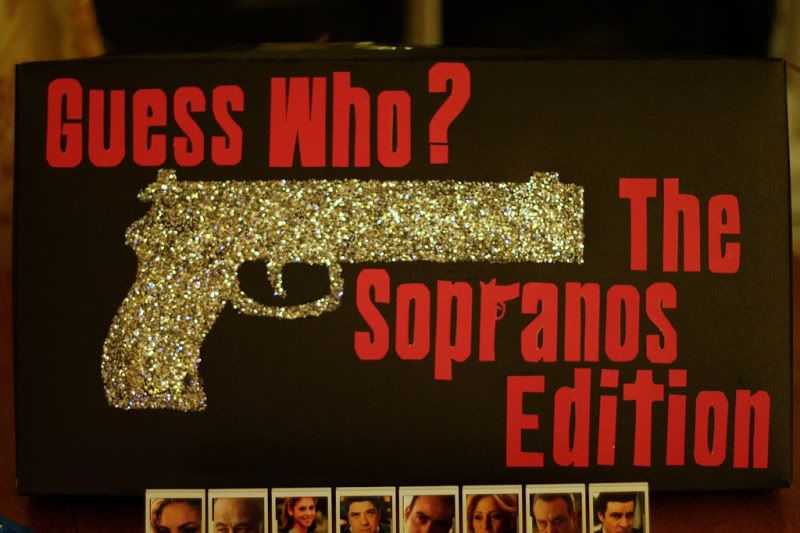 The only addition I am hoping to make to the game is to find tiny little toy guns to use as score markers instead of the Battleship-type pegs that come with the game. Score markers aren't necessary, but wouldn't that be fun? The "barrel" of the gun would have to be super tiny in diameter, so I'm not holding my breath.
Thanks for looking!