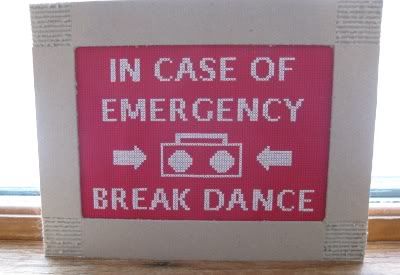 I made this for superhooker in a recent swap and wanted to share the pattern here. The idea for the phrase isn't mine--it was on a different cross stitch on her wists and I have seen it on t-shirts and whatnot all around the intertubes.
I looked up actual "In Case of Emergency Brake Glass" signs and saw lots with those arrows pointing to a circle in the middle, where I guess you are supposed to aim your hammer. So... the idea for aiming at a boom box instead was born.
I did the math to figure out how big I wanted the finished piece to be, then did the design in Photoshop really tiny, pixel by pixel, so I could upload it to
knitPro
to convert it to a chart.
Here is the original gif I uploaded to knitPro ...my source code, of sorts:
Feel free to do the same! Choose "big" for the grid size and 1:1 for the stitch size. I stitched it in white on red 14-count aida cloth, but you could just use whatever you've got on hand.
Please post a pic here if you decide to stitch the pattern!