This is merely part of a costume I am working on for DragonCon '09, which will not be until September. I know I have tons of time, but when inspiration hits, I have to make it NOW! Eventually I'm going to be a steampunk airship pirate, and so far all I have are shoes (purchased) and these goggles: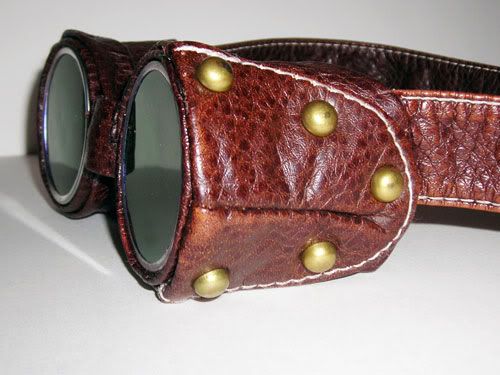 Unfortunately I didn't take process pictures, but the process was basically trial and error anyway. No, I didn't do the rivets myself, that whole side piece was part of the purse I cut up. Here's the remains of it, plus the rest of the supplies, minus the hot glue gun, sewing stuff, and translucent green plastic plates I used for the lenses: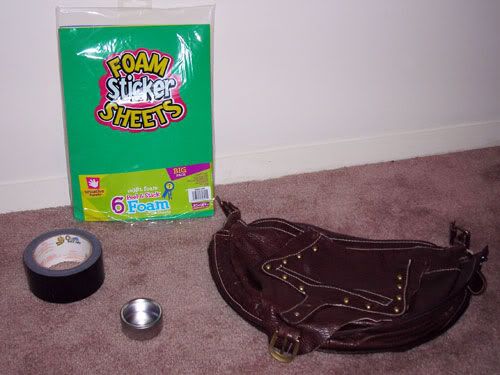 That little silver thing is a trinket box from the wedding section of the Dollar Tree. They come three in a pack, that's my leftover. I only used the lids, which have a bit of a rim to keep the lenses in, but they don't have a center so you don't need to cut anything out. I traced them with a sharpie onto a green translucent plastic plate (bought at Wal-mart, probably find them lots of places) to make the lenses.
I used paper to make a pattern for the eye cups, just doing it over and over until I got it right, (well, almost right, I still had to add an extra piece of leather after I put them together) and I hot glued everything together, then started adding more pieces like the back connecting strap and the extra strip towards the front for stability.
The adjustable strap to hold them on was just the purse's strap, which is glued and sewn (just a few stitches by hand) for extra stability. And then for extra-extra stability and to neaten things up a bit I lined the insides of the cups with black duct tape. Oh! And to keep the lenses from falling out, they're retained with strips of the black adhesive foam, as you can kind of see in this blurry picture:
I have seen lots of ways to make steampunk goggles online, and I always thought the lenses would be the hardest part, but using these Dollar Tree tins and the plastic plate was super easy, so I just had to share.