I have finally finished my costume for DragonCon! On time! woo!
I already posted the
gun here
and the
goggles here
. And now here is all of it all together.
Wings open: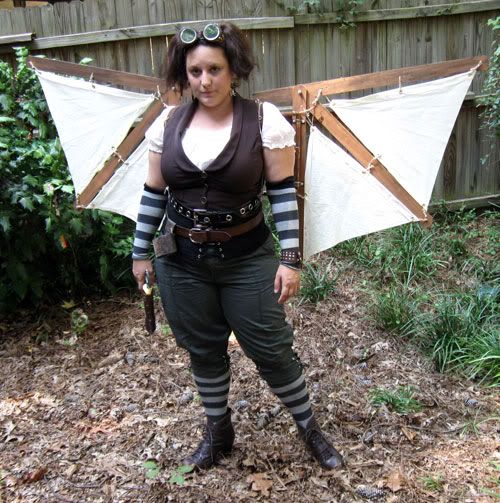 And with wings closed:
And from the back:
Goggles and gun are already explained in their own posts, on to the rest.
Vest: purchased. Waist cincher: already owned. Shirt: purchased then dyed a bit duller white. Hard to see in the pic since I was in the sun, but it's not bright white in real life. Pants: purchased, then altered. I cut the bottoms off and made them smaller, grommetted and laced up the sides, and sewed them back on, pleating the legs on the side seams. I bought the socks, two pairs so one could be arm warmers. Oh, and I made the gun's holster. Oh and those shoes are awesome! They were originally $140, I got them at a discount store for $40! And for such a high heel, they're actually pretty comfy. Here's a better pic of the shoe: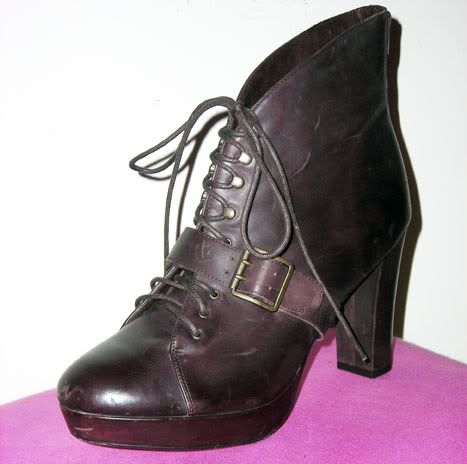 The wings! The wings I've been working on forever, trial and error. The support frame is made from copper pipes soldered together. The spines are slats from a broken set of wood blinds I got super cheap at Big Lots. The fabric is just muslin, with grommets to tie it to the spines. They open and close by pulling a string which hooks onto some jean buttons I hammered into my belt. The black belt with the big grommets is chained to the support frame to help hold it on. There are also brown straps attached with D-rings that are attached to the pipes with pipe clamps.
Since the wings don't operate by steam power or clockwork, I guess it's not really steampunk, huh. It's stringpunk!
Anyway, comments and critiques welcome, though I don't have time for any drastic changes. If you're gonna be at DragonCon, see you there!