Here's this thing I made for my living room wall: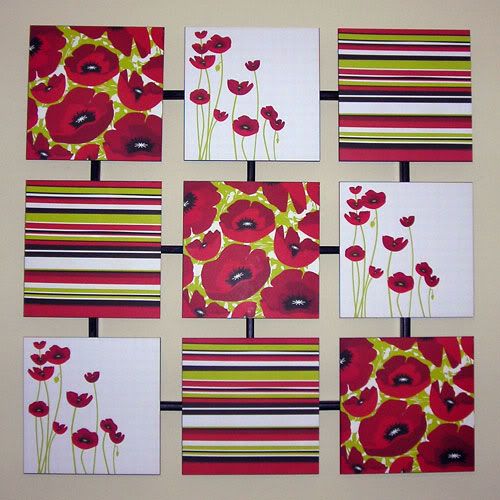 It's kind of like art, I guess? I didn't paint it or draw it. What it is, is scrapbook paper (from a pack called "Pretty Poppies") glued to chipboard which is then attached to a frame. I made the frame from scrap wood from the garage and painted it black, used spray adhesive to attach the scrapbook paper to the chipboard sheets, and attached those to the frame using foam mounting tape (fingers crossed they don't fall off!)
You can see it in context here, where you can also see the tray I did with the same paper, and one of the pillows I got (which don't go with the poppy stuff but at least they're red!), and our new couch:
Unfortunately, that's the only view of the room worth looking at, since we still need: new entertainment center, new end tables (you can see the folding table we've been using) and a slipcover for the ugly but comfy recliner.
Comments and critiques welcome!