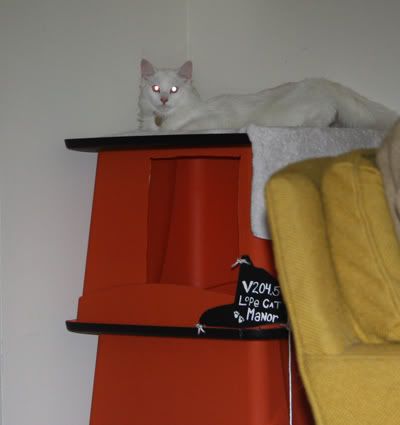 This kitten condo was constructed by my boyfriend for our friend's cat, Lope. Lope sounds like a funny name, but it stems from Penelope because his previous owner wanted all female cats, no matter what gender they were *sigh*... So now he is Lope, pronounced, lo-pay
Materials:
- Two or more plastic tubs, these were on sale after Halloween.
- Hot glue or some kind of adhesive (it won't be where the cats can get to it don't worry)
- an old short bladed kitchen knife
- a candle
- any extras you want, like bedding material or cushions, tennis balls with rope to hang them from the ceiling, etc.
He cut entrances on the smaller side at the bottom, one through the "floor" in between the two tubs (we put his kitten hammock inside to be used as a stair). By stacking the tubs upside down, and placing the bottom lid on the very top with some adhesive, it creates a nice roof perch
We cut the plastic by heating the knife with the candle. We drew the lines first.
After this picture was taken for him to heck out his new pad, we used black grosgrain ribbon which i used non-toxic craft glue to cover the edges tomakeit look nicer
They aren't sharp though, the plastic is very thick.
The little sign outside was made from scrap, and V204.5 is his address inside of his owner's apartment, V204
A rope with a tennis ball hanging from it hangs from the sign. The bottom floor has cat toys hanging from rope we fixed to the ceiling by poking holes and knotting on the other side. We bought nylon rope at Lowe's for this.
He really loves it and we have a plan to make one for our kitty using slightly more narrow but taller tubs and adding a scratching wall on one side with carpeting.