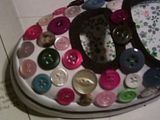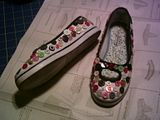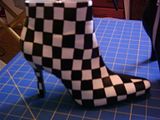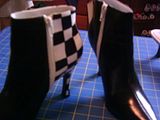 I love shoes....
I used Bic permanant markers instead of sharpies cuz sharpies have a weird look to them if used on a sorta glossy surface. I screwed the boots up bad so just colored them completely except the one part that's checkered. The other shoes were my second stab at checkered shoes.
The button shoes....they started out preppy lightblue and white with a bow. EW. Bow came off, colored over the light blue with black Bic. Also colored over blue line on sole with Bic. Black scuffs everywhere. New idea. Button jar is now half empty.
I have some black heels I want to do something to but I don't know what yet....
Okay, thanks for looking.