Note from the Headmistress...

Reminder: The deadline for the December Headmistress Challenges is tonight, at midnight Headmistress time. (Central Standard Time.) There will be a new challenge posted tomorrow. Have a safe & happy New Year!

Oh drat, I totally forgot! Had two projects lined up no less... Good thing I can reassign them!
Class/Challenge/House Pride: House Unity - Gryffindor
House: Slytherin
Project Name: House colour charger pocket
Project Page Link:
http://www.craftster.org/forum/index.php?topic=437456
Brief Description:
Since Abbeeroad sent me a confirmation of receiving her HPC participant prize of last semester, I can post the charger pocket I crocheted her. I've been knitting so much lately that I had to get used to the hook again! How's that for Christmas spirit / House Unity, the Slytherin HoH sending gifts to Gryffindor students?
Project Picture: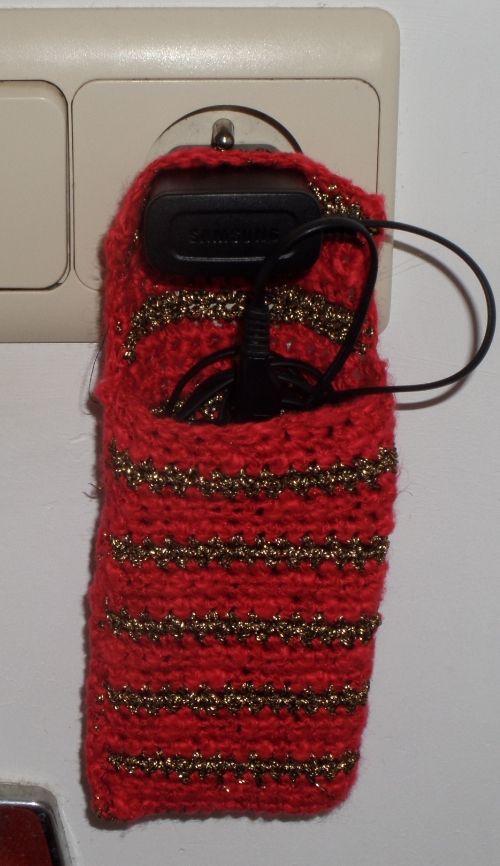 Class/Challenge/House Pride: DADA
House: Slytherin
Project Name: Customized T-shirt for my toddler goddaughter
Brief Description:
This holiday season, it was absolutely time to spoil my goddaughter. Thing is: with two older siblings (a brother and sister), loving parents and ready-to-spoil grandparents, the 18m.o. toddler has pretty much everything her heart could desire. At my wits end, I asked my SIL what my little darling might want or need, and she desperately needed size 86 long sleeved T-shirts. Her older sister wore that size in summer, so what they had on hand didn't do in this weather. While out shopping, I got really rather sad: the muggle stores around here seem to only carry highly gendered toddler clothes, with girl clothes in all shades off pink, covered in drawing of purses and captioned "I love my bags", or with a nice drawing but "I adore fashion" or "Pretty little me" or whatever. Now, the girl is pretty, but I have higher hopes for her than brainless pink barbie doll (I did adore barbies myself, but where are the OTHER options?!) I picked out a couple gender neutral T-shirts, but because there were so few, I also picked up a yeti-white tee to customise with icy flowers. Girly and elegant without being super-stereotypical. (Again: no hate on hot pink. When the girl can make her will known and she begs for hot pink everything, I will get the girl the hot pink everything she wants. But I like to offer variety.)
Project Picture: