Last year I made the back up singer variant of the Captain America Dancing Girls with the red skirt. This year while making another one of those for a friend, I was inspired to make the lead variant as well. The costume is the same in the dress construction, but that's it. The lead singers have the Helmets (or striped hat) and a sequin Bolero/Lapel or red Satin Lapel. The skirts are blue and white with either a red, white, or blue bodice (depending one which lead you are). I made both variants of the lead, which can also be switched up (satin lapel and helmet) for a third version seen while touring with the troops.
http://imageevent.com/benaequee/costumes/completed/movietvartcostumes/captainamericausoleadvariants
http://imageevent.com/benaequee/costumes/completed/movietvartcostumes/captainamericausogirl
I drafted the bodice pattern and the bolero from scratch. The skirt panels and lapels were done by a friend for our group. I got an unissued helmet from the 1960's from a friend and painted it to look like the one from the movie. I chose the "A" since that is what the blue top variant wears, it's also the helmet that Cap' wears when he goes on his rescue mission.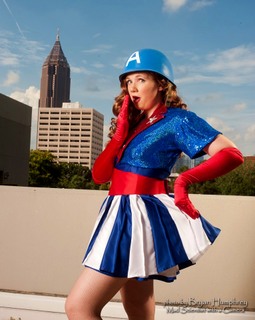 Oh my! Pin-up style.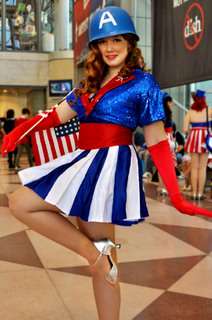 At NYCC two weeks ago.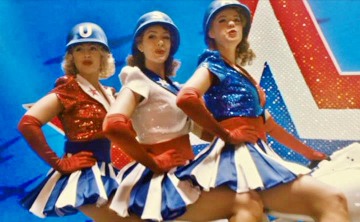 For reference, a still from the movie.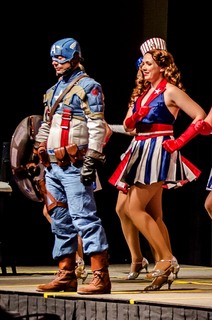 Stripe Hat and Satin Lapels version, this is me on stage at Dragon*Con during Masquerade. We had 10 girls doing the dance with a Cap reading the war bonds lines.
Making the striped hat. I made a red satin side piece and used white silk ribbons for the stripes. The frame was 2 layers of heavy weight buckram with a wire frame on the top for shape and base.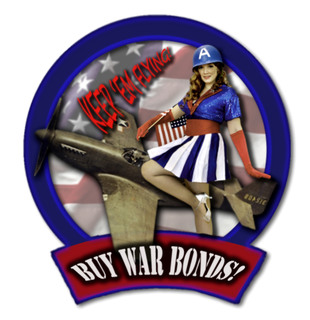 A little photoshop fun :-D