Since we had Hurricane Sandy rip through the east coast and I was stuck home, I made a coat! I was luck to have power and internet, but I was stuck in Brooklyn. My job has no power right now and my train line isn't running due to flooded tunnels.
The fabric was salvaged from the soon to be trash of a fabric designer. It was 3 yards and *just* enough. I would have preferred to have it a few inches longer, but you have to make do with what you have sometimes. I tried to match the pattern as best I could considering I had to piece together some of it.
The lining was the only thing bought for this jacket and cost all of $10 in garment district. It was sold as a poly print, but it feels like silk and held up to a super hot iron without melting. It might be rayon. There was only 2 yards of this, but because I didn't have to really worry about the pattern, it was enough. I love the pattern on it so much, it's just a basic white and black. The pattern was small enough that it doesn't really fight with the large plaid print. I wasn't too sure at first, but seeing them together sealed the deal. I didn't want a plain lining, I like to keep things interesting.
The body of the coat was made using Vogue 8346 view A. I omitted the upper collar portion and drafted a hood pattern instead. The hood was attached in the same manner that the upper collar would have originally been.
I also lengthened the sleeves, because these patterns always have shorter sleeves on me (long arms). The pockets were also made a little wider and deeper. When it's cold, I like my whole hand and wrist to stay toasty warm.
I added a belt I already had in my stash and I love how it finished the look.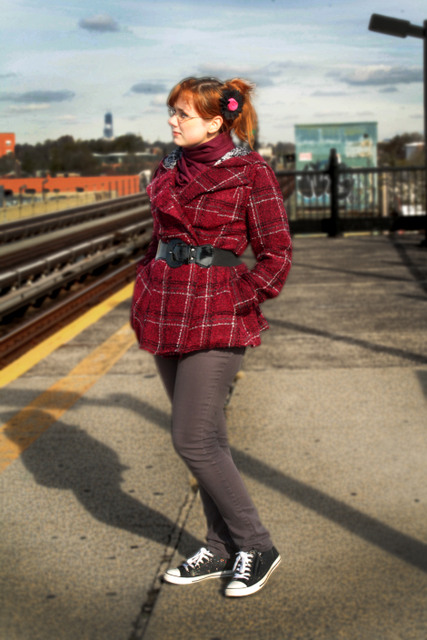 This was taken with my actual camera.
This was taken with my camera phone. I didn't get one with the good camera because the wind picked up and kept blowing the hood off.
Back of the Jacket... I LOVE the hood so much.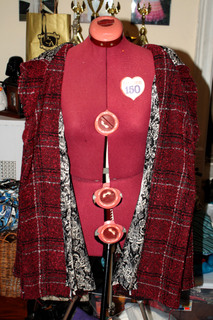 Showing the coat open with the lining.