The original piece of awesome art was made by Kelsey Michele on Deviant Art (
http://kelseymichele.deviantart.com/art/Avengers-Gowns-Thor-and-Captain-America-305808542
). She used The Avengers as inspiration, by turning their costumes/looks into gorgeous evening wear. Of course I fell in love with Cap's 50's style cocktail dress.
My main goal for this dress was to be able to wear it as a dress, and not let it become something that looked like a costume only. I wanted it to look like fashion. I used a royal blue Duchess Satin and a Royal Blue poly chiffon. The chiffon was a bit more purple in hue than the satin, but once laid over the satin, it looked more blue. It's actually nice to see a color shift of lighter blue under the darker chiffon as the dress moves.
I started with Vintage Vogue pattern V1094 as a base. I was going to make this a back zipper dress, but after looking at the pattern and seeing finished dresses, this design is better suited to the original side zip the pattern calls for. Instead of making the lining layer 4 panels and the chiffon layer in 6, I made the whole thing in six. I serged the top edge of the layers together, and then box pleated the entire waist line. The original pattern called for gathers, but I felt the pleats looked better and more polished.
If the dress looks familiar, it was also the dress I used for my TARDIS gown...
http://www.craftster.org/forum/index.php?topic=422454.0#axzz2R3u3sveR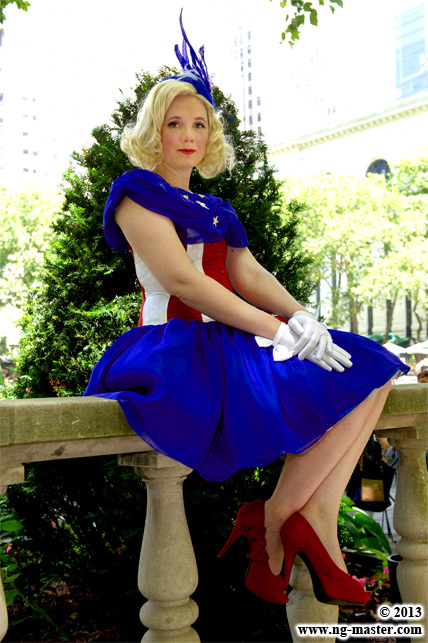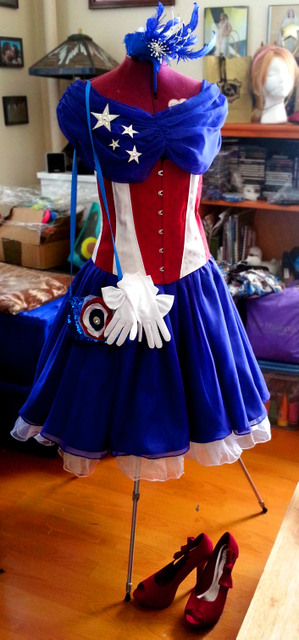 My Dress, finished
The original art that inspired me
http://kelseymichele.deviantart.com/art/Avengers-Gowns-Thor-and-Captain-America-305808542