This is a dress I made in 2009 to wear to my sister-in-law's wedding. My SIL is a women's fashion buyer, and was having a pretty swanky afair, so I needed something that would fit right in. However, I do not have the budget to fit right in with something off the rack. I browsed the internet for about week, checking all sorts of different styles of dresses. I decided that I would then check the Red Carpet fashions of awards shows past. I instantly fell in love with the style of Marchesa's gowns and knew I had to have one of my own. I finally settled on a gorgeous empire waist dress in silk chiffon (my favorite!) with heavy beaded trim on the bodice.
Working in the garment district of NYC and working for M&J Trimming at the time, gave me a great advantage in making this dress. I found a beautiful 60" wide black chiffon with a slight texture to it that wasn't super airy light. The trim was a gorgeous bullion embroidered and beaded 3" wide trim - that was $60/yd (yay discount!). I used Vogue Pattern 1079 because it had the right form for the dress (the original package has a HORRID looking dress on the front). It only needed a little modification to "make it work" for my needs. I added a built in bustier to inside to help the dress hold its shape since it would be strapless and have all that heavy beading on top.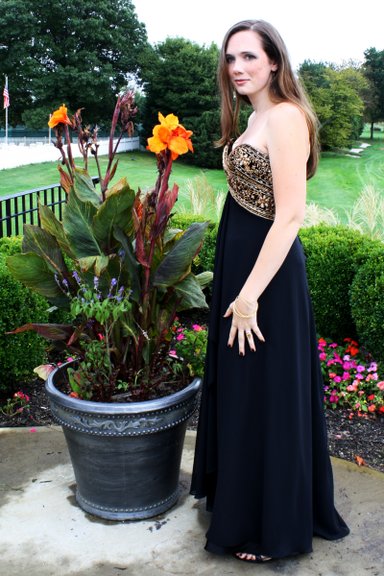 My version, taken at the SIL's wedding. I wore it again a year later to a friend's wedding too.
Making of Page -
http://imageevent.com/benaequee/costumes/realclothing/recreationmarchesagown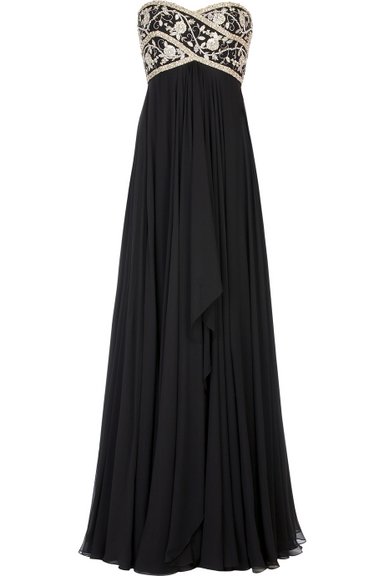 This is the original dress, I'm sorry I don't have a direct link as it is from their older collections and no longer on their site.