I've been in love with the gowns of the mid-late 18th century for a while. Each one was a piece of wearable art with it's gorgeous fabrics and intricate details. As a costumer, I love with watching movies with tons of gorgeous costumes, so of course I had to see Marie Antoinette. I fell in love with quite a few of the gowns from the movie, but was still not ready to tackle a gown like one of those. I waited a few years and honed my skills until I felt I was ready. I researched online, and reached out to friends in the costuming community for pattern advice. While researching, my mother gave me 9 yards of this beautiful light aqua silk she got from an antique dealer. As soon as I saw it, I knew it was perfect for MA's "Daydream" dress with the red velvet belt.
I made everything for this costume. I made the stays, pocket hoops, petticoat, robe, shoes, wig, and trims on the dress. The stays have about 20 yds of plastic boning and I hand sewed all the eyelets on them (first time for me). They are quite comfy too. The pocket hoops aren't anything fancy, but boy do I love how much STUFF they can hold! I went to a MA themed party and had a bottle of Framboise Lambic in each pocket along with all my own things lol. I'm considering sewing smaller pockets inside to organize things like my fan, mirror, lip gloss, and cell phone and wallet. My hubby was very happy that he didn't have to be my purse for a change. The shoes have their own write up
http://www.craftster.org/forum/index.php?topic=397609.0
and are so much fun to wear. The wig I made from a Marilyn Monroe wig that I teased up a bit and then sewed a ponytail extension to the back. I added a giant flower pin and jeweled hair clip to the back.
I used the JP Ryan patterns for the stays, hoops, and the robe/petticoat. It was definitely an experience using the patterns. It took a bit of patience with the sleeves because they weren't exactly made too clear on how to set them properly. I ended up sewing them in backwards the first time in the good fabric and had to unpick everything and do them again. I made the sleeves long to match the movie costume and came up with my own cuff that snaps in place. All the trim was pleated on my machine, steamed, sewn down, and then fluffed up a bit. I think I used a whole 30yd roll of organdy ribbon on this dress. I made the front close with hook/eye tape that is reinforced with boning along the edges to hold the shape and not bunch up.
Overall I'm kind of happy with how it came out for my first attempt. The lower sleeves are a but tighter than I'd like, but I'm going to partially blame that on weight gain during the process and partially on the pattern being too small even after adjusting my muslin. I also need to soften the lines of the hoops somehow, probably with another petticoat underneath the nicer fabric one. Ignore the bunched hem, I hand sewed it and the decorations on my shoes caught the thread right before the photo causing it to pull. I've since ironed it back flat.
My Making of page
http://imageevent.com/benaequee/costumes/completed/marieantoinettedaydream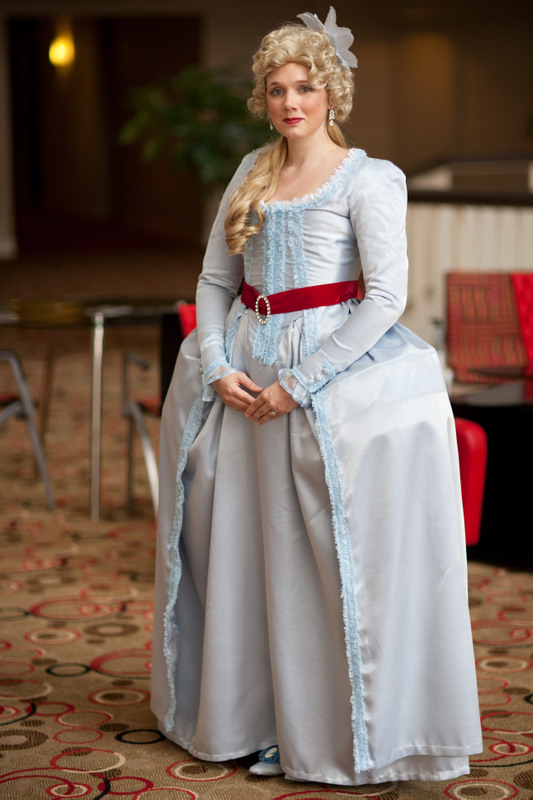 My Dress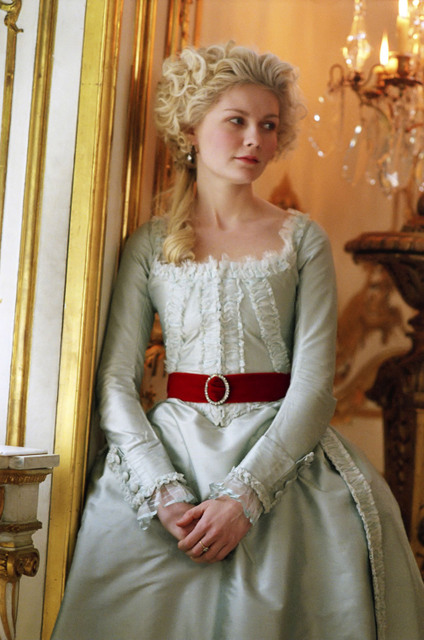 The Original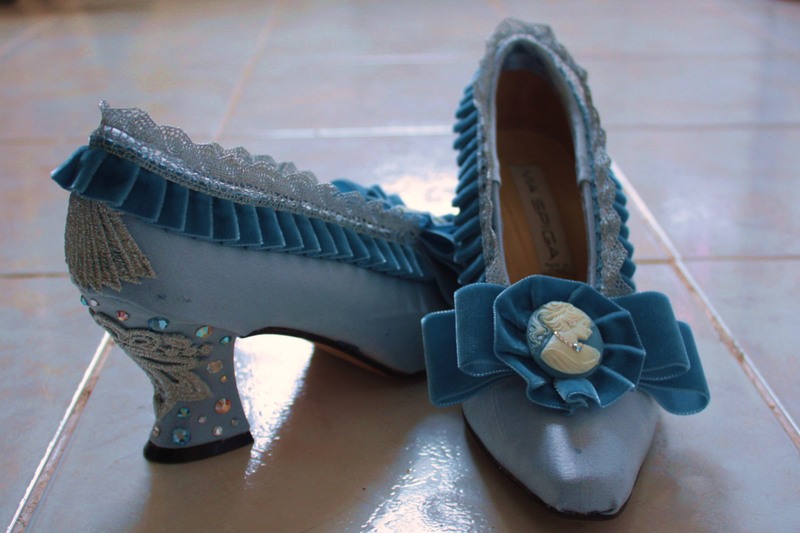 My shoes *heart*