LONG POST, sorry, I like details lol
This costume started out as a joke for Dragon Con, on Thursday night. Normally, your average Dragon Con Thursday costume is something simple and easy. You save the crazy elaborate things for Friday or Saturday. I decided to mix it up a bit and took something that was meant to be quick and cheap, and make it more serious. As a costumer, I just can't do quick and cheap and jokey. It pretty much goes against my grain lol.
I started by finding a decent fabric (lycra) that had a skin like texture and was brown. I sewed up a body suit with attached wings and a tail (LOVE the tail!). It was then painted, while I wore it, by my husband. I directed him where to paint and how to blend, and he did a great job. I then went over some areas on my own until I was happy. The wings were painted while laying flat on my gravel driveway.
The head is a paper pattern base I found on Etsy (search Pterodactyl mask). I used poster board to make it out of and contact cement to hold it all together. More fragile seams are held additionally with strong tape on both the front and inside of the mask. It was then covered in layers of thin upholstery foam and basic craft foam until I was happy with the shape. The seams and upholstery foam were covered in plaster to fill in any gaps or obvious looking seams. It was sanded smooth and hit with a thick latex paint layer and left to dry outside in the sun. There was spackle added in areas where the plaster didn't quite fill. It was allowed to dry, was sanded, and then painted with latex again. Any final areas that needed filling, were filled in and sanded. Those spots were painted and dried. The final mask was then treated to layers of spray paint blended until I was happy with the colors and texture. The multiple layers of foam, plaster, and latex let the final product be flexible with minimal cracking. Teeth were made with pinking shears and craft foam, the tongue was also red craft foam - using a hair dryer to shape - painted slightly. The eyes are antique 1" upholstery tacks that my mom gave me and I painted with acrylic paint, and then epoxied to the mask.
The boots are awesomely ugly hidden platform boots that zip up the calf and offer excellent ankle support for running around. I glued the front tongues in place and then covered the boots with fabric. They were painted to coordinate with the suit painting. The heels and hidden platforms were painted black to give the illusion that all I have are 4 Pterodactyl toes to stand on lol These boots are my favorite part of the costume, and really comfy - surprisingly.
The claws for the feet and hands are made from sculpy. Unfortunately, one of the foot claws was broken when the bell hop at our hotel dropped it off the cart upon check out
Those are glued to the feet and then sewn on, I have to figure out how to safely remove it and make a whole new claw. The piece that broke off was no where to be found
They lasted wonderfully as I walked around for two days of the con (Thursday and Sunday) with no issues. The toes are thick upholstery foam that I carved into a toe shape and glued to each boot. They were then covered in matching fabric.
It was an EXTREMELY popular costume at the con, I could barely chase my husband around (dressed as Jimmy Buffett saving his Margaritas) without someone wanting a photo lol.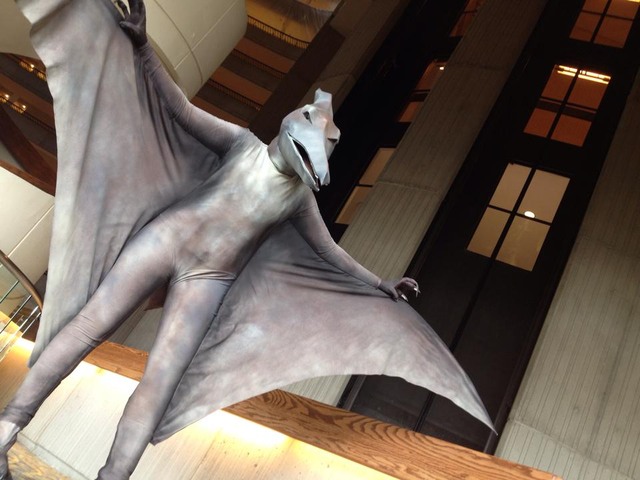 My progress photos...
https://www.facebook.com/media/set/?set=a.1048609225178837.1073741869.142393185800450&type=1&l=2bb58f1dff