I got this amazing swim knit fabric from Knitorious Fabrics in a limited run back in April as a pre order. It arrived in June and I held on to it until I could figure out what to make with it. I had bought a cotton woven as well and made a handbag and wallet set from that. I knew I wanted a special dress for myself, something flirty and feminine and with a touch of nerd. I picked the lightsaber print over the characters for my dress, as I wanted it to be subtle. Unless you are staring at it and know Star Wars, the lightsabers don't jump out and scream HI I'M A HUGE NERD!!! I scoured Pinterest for and google images for inspiration. I liked the peek-a-boo lace accents I was seeing over and over again, and decided that was what I wanted. I set out to draft my pattern and then created the dress
https://www.facebook.com/media/set/?set=a.1217193791653712.1073741876.142393185800450&type=1&l=8f44a58f9d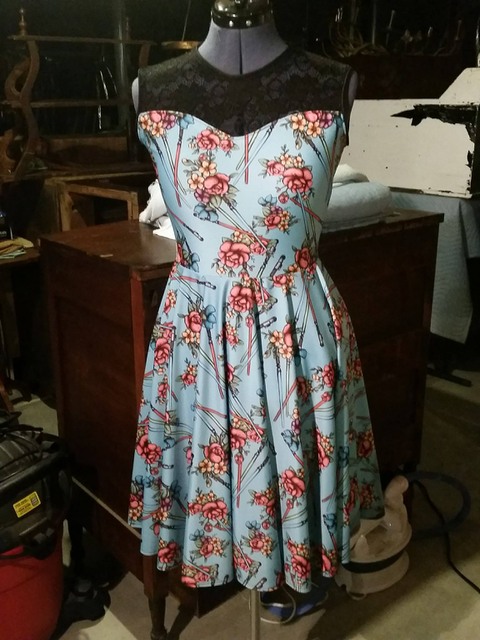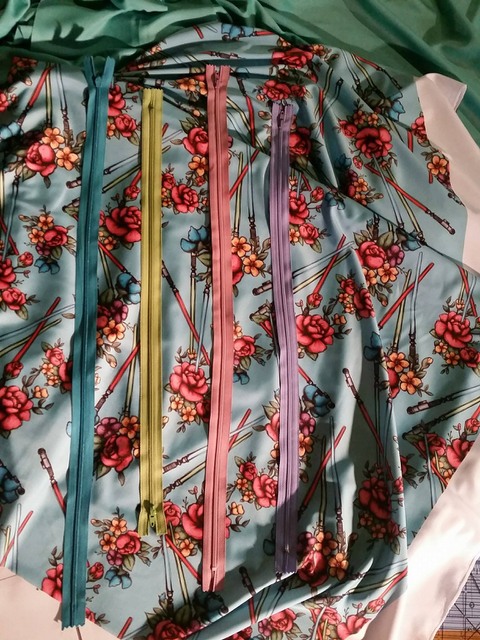 Fabric and zippers, trying to choose a color was hard, as they all look good.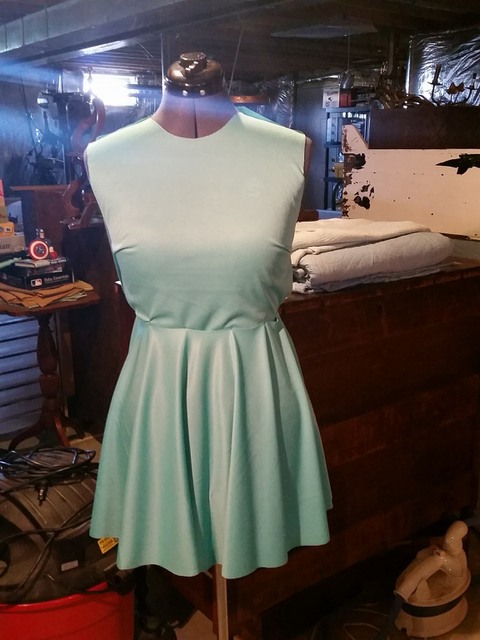 I used a teal knit I found in the remnant bin at Joann for a mockup, and it later became the lining fabric as well.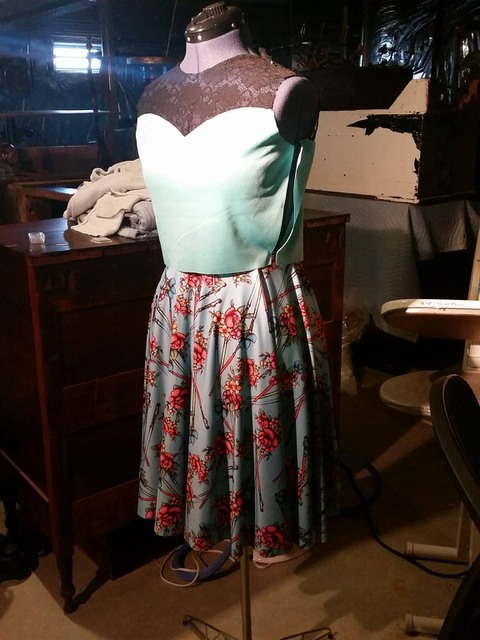 Happy with how the skirt was falling, I cut it out of the good fabric (SCARY since it was $20/yd and no longer available!). I then mocked up the lace insert with a sweetheart neckline in the front. The lace continues to the back as well.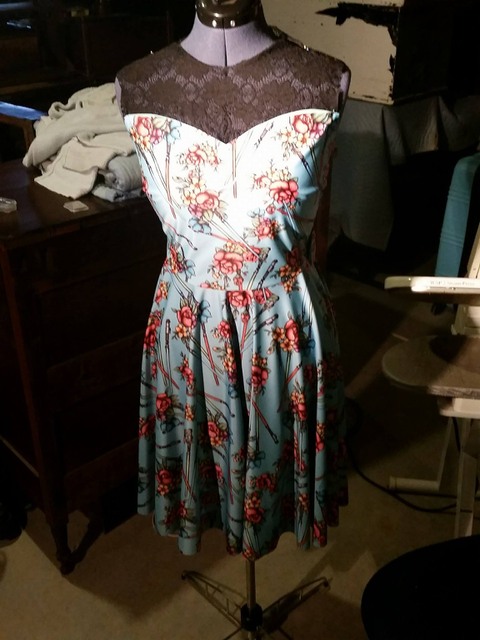 I was happy with the bodice and the fit, so on to the good fabric again. I was getting excited at this point, it was starting to look exactly as I had envisioned in my head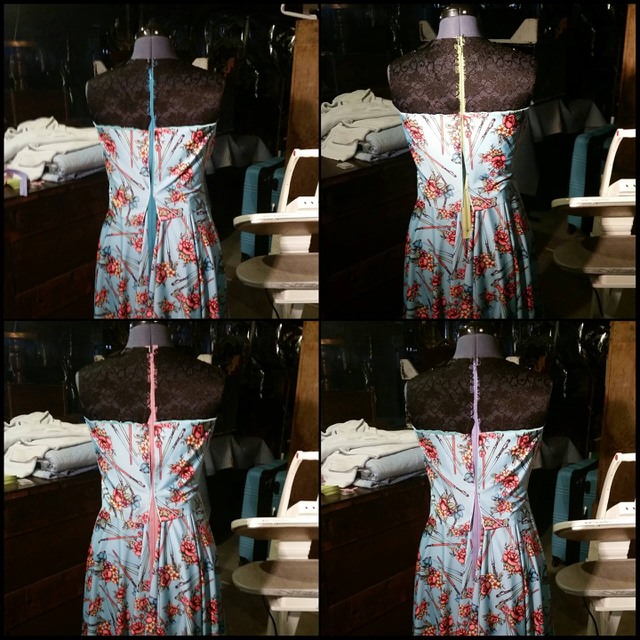 Zipper choosing. I was going to use the rose colored one, and in my tiredness (it was 1am at this point) I used the teal LOL It still looks great though!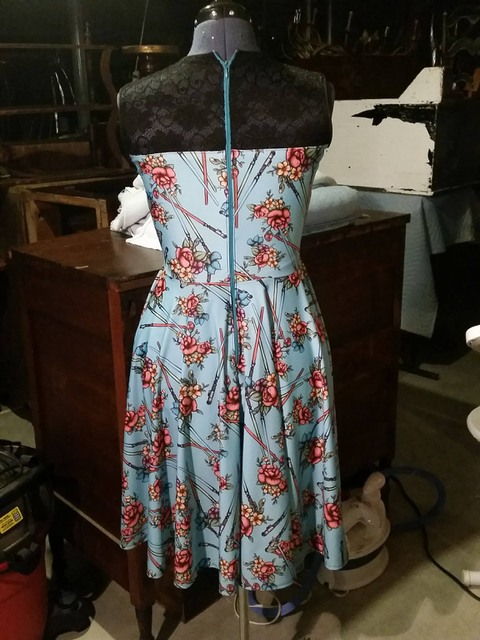 The finished back, sans hook and eye for the top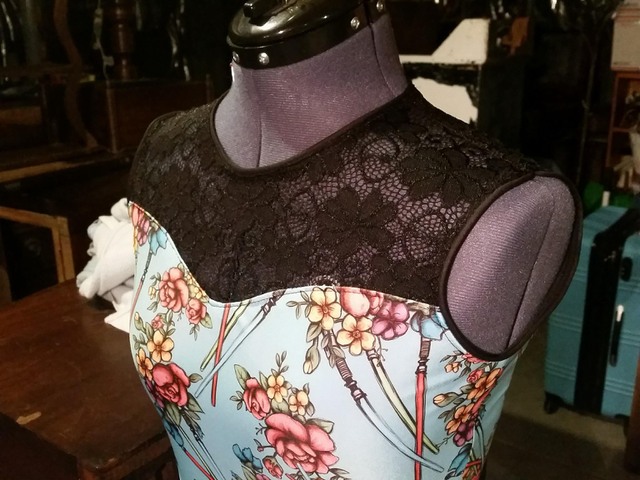 This bodice front is so pretty. I edged the neckline in a cotton piping to help it keep it's shape over time, same with the arms. I need to take it off the arms though and cut about an inch or so lower in the arm hole. It was a little tight after wearing it for a while.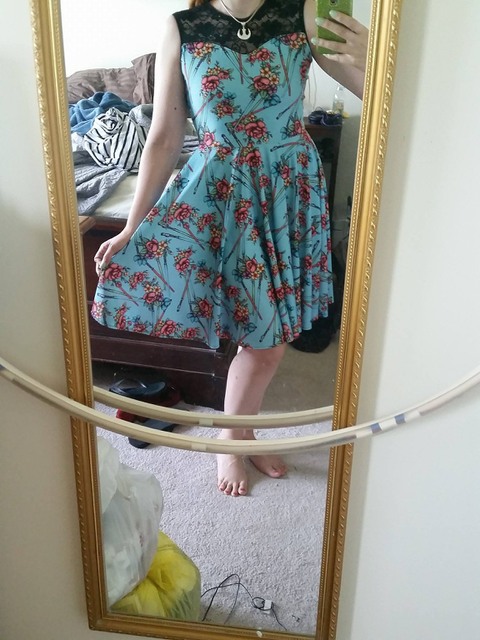 Don't mind my messy bedroom lol The bodice and skirt are fully lined so that the fabric doesn't cling to me and show off my undergarments.