I wanted to share a teeny tiny "tutorial" of sorts on making my mask. I debuted this costume at NYCC 2013 (more pics to eventually follow). The mask was a scary thought at first, since I've never made a prop before. I always choose costumes that require only a sewing machine, fabric, and notions. I sculpted a lot in HS in various ceramics classes and as a hobby, so that part was easy to remember, but nothing ever had to be wearable before.
https://scontent-a-ord.xx.fbcdn.net/hphotos-prn2/1235273_3585846181366_2099055093_n.jpg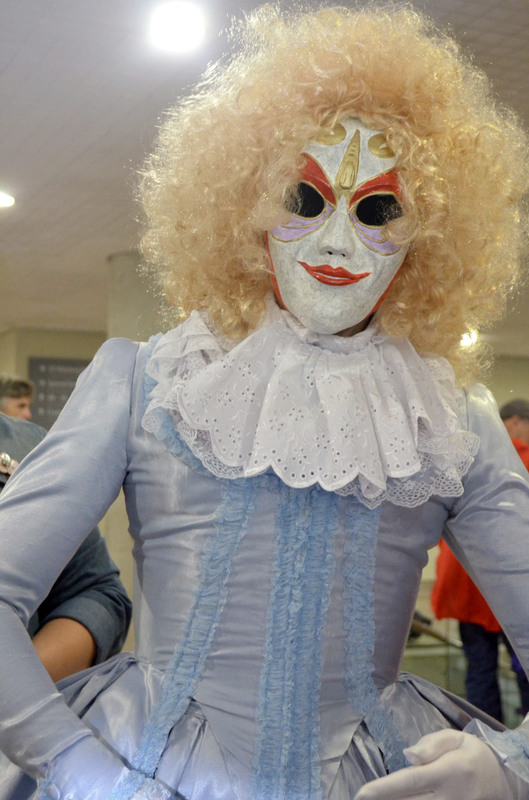 Photo by "Hannah Clara Rose Erin" on Facebook
I started out with a plain white costume mask from the art store ($5) and sanded the surface with a rough grit sand paper all over the front. I then cut the eyes to look more like the actual ones (as close as I could given the shape they were already). Afterwards I cleaned the surface with rubbing alcohol to get off any sanding dust and drew on the details that would be added in clay; I used a reference image from google for help with the details. Search "Clockwork Droid Mask" and a lot of images pop up.
https://scontent-a-iad.xx.fbcdn.net/hphotos-ash3/994628_655181084521655_2050430553_n.jpg
I then bought "Paperclay" (
http://www.paperclay.com
) from the art store for about $6. If you've never worked with it before, it's great stuff! You can smooth it out with a little dab of water and when it dries, if you need to add more detail you can. Keep in mind that the more water you use and the thicker the clay, the longer it will take to dry.  I started by adding in the facial features themselves to build up the mask's dimension. Sure you can simply paint on the design, but the 3D effect will look more stunning in the long run.
https://scontent-a-iad.xx.fbcdn.net/hphotos-prn2/1381239_655181081188322_2008953712_n.jpg
When I was done adding in the facial structure, I added in the "carved" details of the mask using rolled strips of clay smoothed out onto the mask.
https://scontent-b-iad.xx.fbcdn.net/hphotos-ash3/602930_655181051188325_357152427_n.jpg
I then broke that mask above by dropping it... DO NOT DROP IT : I learned that lesson the hard way. Thank goodness I had that back up mask in the previous photos!
Repeat the steps above on your new mask, take into account what worked the first time around and improve up on it... I actually like this version better
https://scontent-a-iad.xx.fbcdn.net/hphotos-ash3/q77/s720x720/578742_10153322034175015_295828695_n.jpg
I then painted the whole thing white with two coats of gesso, painted on the purple (female droid) cheeks, the red lips and "eyebrows" and used a metlalic gold painters pen on the details. I then went crazy and DREW ON the crackle effect (I'm insane) with a mechanical pencil (nice fine point). The whole thing was then gently rubbed with a tissue to give it that aged look by using the pencil's natural smudging ability. It was then sealed with a few top coats of clear acrylic spray.
https://scontent-b-iad.xx.fbcdn.net/hphotos-frc3/1375688_660746737298423_670424901_n.jpg
Seeing as laundry day usually results in a few single socks now and then, I knew I had a black laying around that I had hoped a mate would be found. I made sure to stretch it out and hold it up to my eyes to verify if I could see out of it. After a few tries, I found a single black dress sock worked best lol. Why buy fabric when single socks are plentiful!? I hot glued the bottom eye edges, let it dry, and then pulled it tight and glued the sides and top. I am able to see out of it remarkably well, I just have tunnel vision is all. Hold it up to your freshly teased/styled wig, and you have a clockwork droid mask!
https://scontent-b-iad.xx.fbcdn.net/hphotos-frc3/q88/1377516_10153332489520015_764259900_n.jpg
Your final step is to pair it with a beautiful Georgian period dress and you are set! I actually reused my Marie Antoinette dress for this costume since I didn't have money to make another period gown. That's a whole other story though in it's own
http://imageevent.com/benaequee/costumes/completed/movietvartcostumes/marieantoinettedaydream
.