It sounds (and looks) like everyone is being very productive!
trinalocakary ~ your crowns look so fun! I have had the sideways photo problem too.
Always ~ great organizing! The cowl looks very warm.
As I have been sorting I realized I have a lot of fabric things because my dogs have torn but I can't bear to throw anything away so they are all sitting in my craft room instead of the landfill. I decided to make a torn up robe into bath mats to avoid standing on cold tile after the shower. I made two but only took a picture of one. Kind of a boring project but it was nice to get something made. I was going to stencil them but on a test it didn't look good (they're terry cloth) so they are plain for now. Oh look it's Phantom's nose, the dog who tore up the robe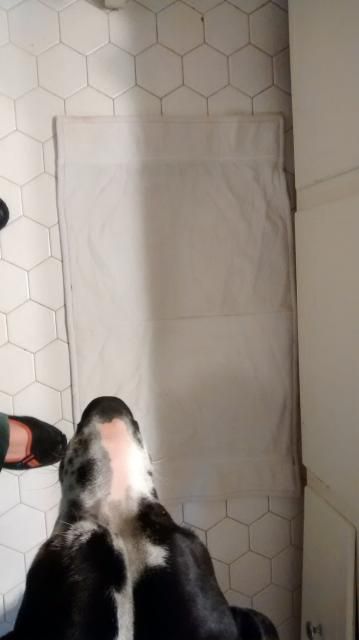 I finished a cowl the other day because apparently I think I live in a climate where I need a closet full of pretty cold weather gear and not southwest GA. I rather love it regardless if I will get to wear it more then one day a year. It's made out of some apparel fabric that is fuzzy on one side and a microsuede type material on the other.