Over this past weekend I got a little string doll out of one of those 50 cent vending machines. The set that he is a part of is supposed to be a "Career Series" where each doll "Has a unique element that symbolizes their career like DJ headphones, police hat, ballerina skirt and more!" Well, imagine my surprise when the one I get appears to be a balding, shirtless gentleman (See picture below, I forgot to take a before picture so I found a picture of the set on a sales website (that's where I got the series description as well) and I circled the one I got from the series in purple). I have no clue what career he is supposed to be (if anyone has an idea, let me know XD) and my roommate dubbed him "The Loser". I decided this was no way for the poor little guy to go through life so I got out my crafting stash and went to work.
A little felt, ribbon, paint, and some other odds and ends later... Viola! A Steampunk-y Victorian Gentleman.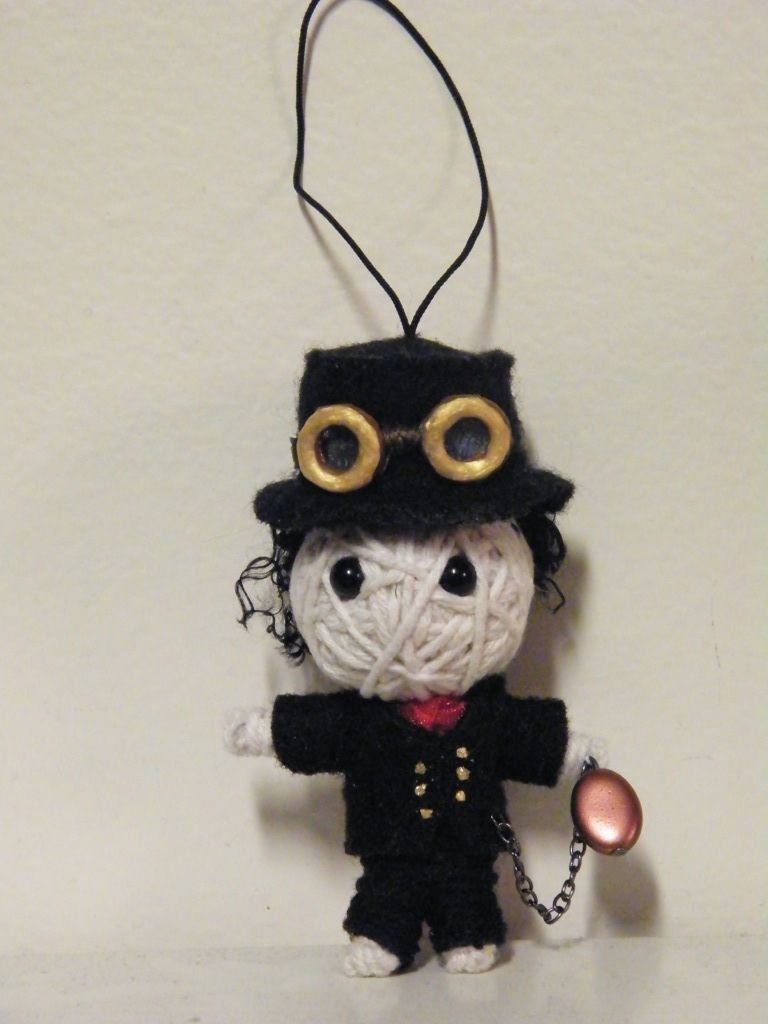 His coat and tophat are made of felt, with fabric paint buttons. I tied a piece of ribbon around his neck for the ascot and the "pocket watch" is made of some bits that I dug out of my bead stash. The goggles were cobbled together with superglue out of some bead bits, paint and ribbon. I'm super happy with how he turned out and he looks much happier than his former shirtless self
Set of all the string dolls, the one I modified is circled.
EDIT:
A friend did some Google-ing about my little guy and it turns out that each one has a name (each name is a pun relating to strings/knots) and this guy's name was Knot So Funny Phil, so she has decided that he must be string doll version on Dr. Phil since it does kinda look like him XP