Hi everyone! I'm about to take the plunge into first-sweater land so I thought I'd join on up.
First I have to say that I LOVE the sweaters you guys have pulled off so far. I've even been inspired by your fairly easy fair isle cardigans and have decided that's it's just the little number to help me to the other side.
I was going to do the unisex knock-around cashmere pullover from Weekend Knits, but I just wasn't sure if I'd like the FO. These things always look so nice on the model but you never know how it's going to end up on my rotund little belly. I can't decide whether the strip around the middle would be flattering or bulking.
So thenI notice the yarn I bought for the sweater is the same gauge as the cardigan, so why not?
Here's the yarn I got: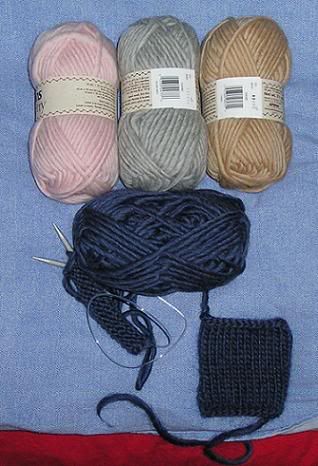 The blue is the base colour. The other colours I scrounged last minute after I decided the switch to the cardigan. The yarn is discontinued and was in the sale bin, so these were the only colours left. Any suggestions on how to arrange the colours in the cardigan? Is it possible to put a different yarn in (as long as it's similar gauge and fiber content?)
Tell me what you think!
I think it will look very nice
But did I read correctly that Patons Up Country is being discontinued!!?? That was the only bulky gauge wool yarn I could find around here that was affordable
Tere