For the Monster Swap, I made my partner a table runner! I'm quite proud of it, because my sewing skills are shaky, at best.
Here are upclose shots of the ends: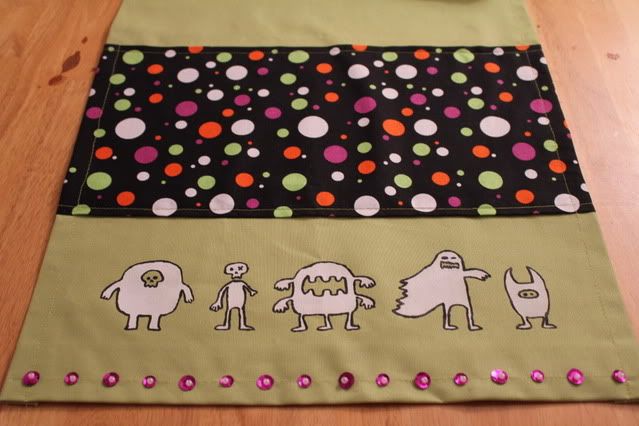 (I so don't know sewing terms, so please forgive me as I stumble my way through my process). The green fabric is home dec fabric, and its a 1/2 yard wide and 54" long. I started by ironing over the edges on the shortest edges and then sewing them. The polka-dot fabric is Halloween fabric. I ironed over the long edges of this fabric and then top stitched (I believe that what its called) it onto the green fabric. I then ironed over the long edges of the green fabric, that included a bit of the polka-dot.
I found the images of the monsters online, printed them out cut them out with freezer paper and used that as my stencil. I used fabric paint, and then freehand painted the edges in black fabric paint.
Then, to add some bling, I sewed on some sequins and beads to the bottom of it.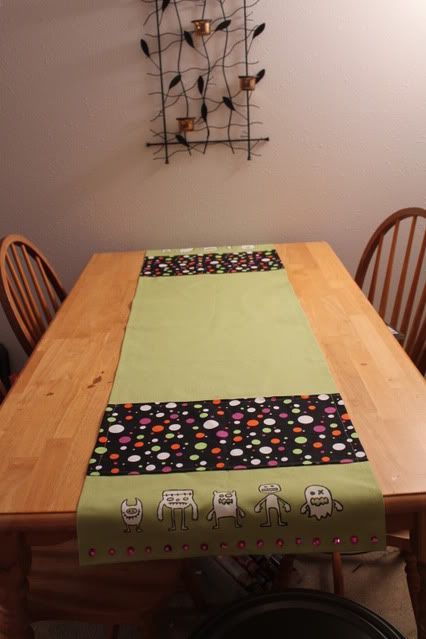 Here's the whole thing laid out on my table.
Thanks for looking!