I was determined to paint a mug for the Mini 13 Days of Halloween Swap for my partner's husband. I also made one for The Monster Swap Rd. 3 for the gal I angeled for. After much inspiration searching on the internet, I found some mugs that I love from Starbucks. They, at one point, sold some awesome monster mugs with the coolest faces. I had one of those moments of "hey, I can do that!" and went to work! At Michael's I found a new paint by Martha Stewart that is multi-purpose. So multi-purpose that it can be used on ceramics and glass! How cool is that?! Thanks Martha! The paint is kinda glossy, and very solid. Love it! It also can be dishwashed after letting it sit for a month or so, to cure!
For anyone who is interested:
http://www.michaels.com/Satin-Acrylic-Paint/cp0469,default,pd.html
I found the mugs at Cost Plus World Market for like $5 each (score!) and the paints were 40% off at Michael's when I bought them. I just need the two colors, black and white. So all together, for two mugs and the paint was around $13 (less tax)! Waaaaay cheaper than buying them at Starbucks!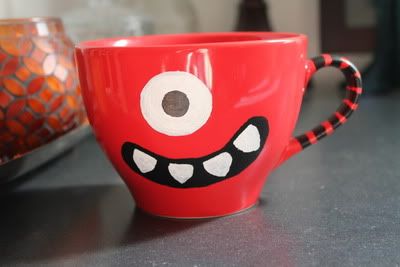 They were really easy to make. I even painted lines around the handles. And, not shown, a little heart just above the handle.
Thanks for looking!