hey everybody!! for the back to hogwarts swap, i made a potions cabinet for my partner
pinkleo
!!
i started this project very casually, and the more i worked on it, the more involved i got.... ended up putting an insane amount of work/detail into it, ended up totally falling in love with it.... i know people say this all the time, but it really was hard to pack up and send to its new home! let's look at some detail shots!
here's some door closed/door open shots:
top left cubby:
here we have a lil mandrake in a pot (carved from sculpey, accessorized with moss)... don't worry! he's tame! he's quite happy living in pinkleo's potion cabinet, i promise he won't screech at you!! also sharing the cubby with the mandrake are a vial of "magic nick & mom's hair" (my son helped me gather all the potions ingredients from around the house, i never knew i had so much magic stuff!), some random other potions bottles (all of these tiny bottles are glass beads fitted with sculpey stoppers and bases) and a tiny golden snitch having a bit of a rest before it heads off on new adventures!
center left:
a cauldron full of potion is brewing!! wasn't able to get a good photo of the potion itself, but it's a very fine silver irridescent glitter... maybe some liquid luck? we might never know.... a vial of "magic cork parts", some coral from the beach in florida, a few more miscellaneous potions bottles, and the foe-glasses mounted on the back wall are vintage watch crystals.
bottom left:
a portrait of Professor Dumbledore keeps watch over a rare illuminated manuscript and pinkleo's wand (made from a toothpick and a bit of sculpey) while she's away... a vial of "magic dead leafs from the kitchen plant" and a vial of "magic floor popcorn" (nick had been having a snack, i swear i don't always have magic floor popcorn in the house!) the lil silhouette is from a whimsy swap with
sheepblue
, and other vials...
top right:
a few essential potions books have their homes in this lil cubby! pinkleo's also chosen to set her cup of tea here... perhaps not the wisest place to put her tea, but last time she left it next to the cauldron, and we won't even go into the fiasco that occurred then!!! perhaps it's the warmth of the tea that's drawn him in, or maybe he just felt at home with hagrid's portrait hanging here, but a wee bat has stopped in for a bit of a kip until night falls and he can go hunting!
center right: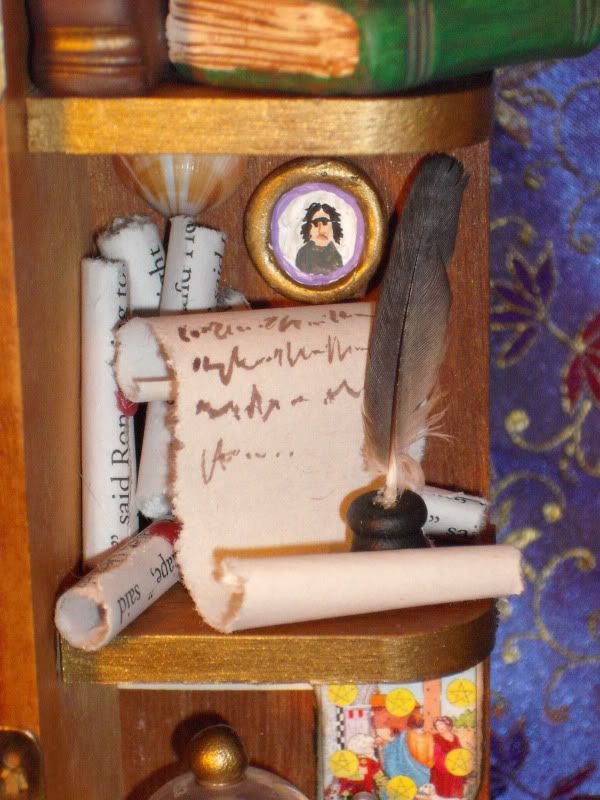 a convenient place to do a little record keeping on her latest potions experiments, pinkleo also has a stash of scrolls here from previous research! (strips of pages from year 6 ~ my dog liked this book so much he had to swallow half of it! i've been using the rest for crafting...) and one must always keep a nice sharp quill and an inkwell at the ready!! (this quill donated by my cockatiel!) maybe professor snape is unimpressed with pinkleo's handwriting... his portrait certainly doesn't seem very happy!)
bottom right:
a skull (sculpey) in a bell jar ($.25 machine bubble & sculpey), a tiny seashell, and some more potions!
here are some pics of the inside of the cabinet!!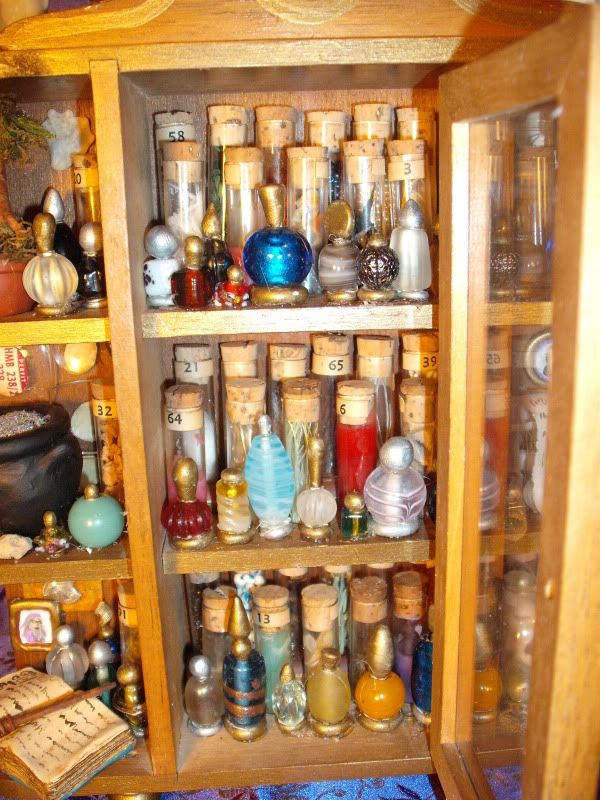 among my fave ingredients: "magic paintbrush hairs", "magic smellgood candle waxes", "magic tiny seashells", and "magic jar of tiny eyeballs" (that one's waaaay down at the bottom, it the back. we made them from teeny balls of sculpey and painted the irises/pupils on with acrylic!)
and thumbnails to MORE pics, if you're interested!
oh, and a tiny bottle of love potion and box of chocolates, juuuust in case!!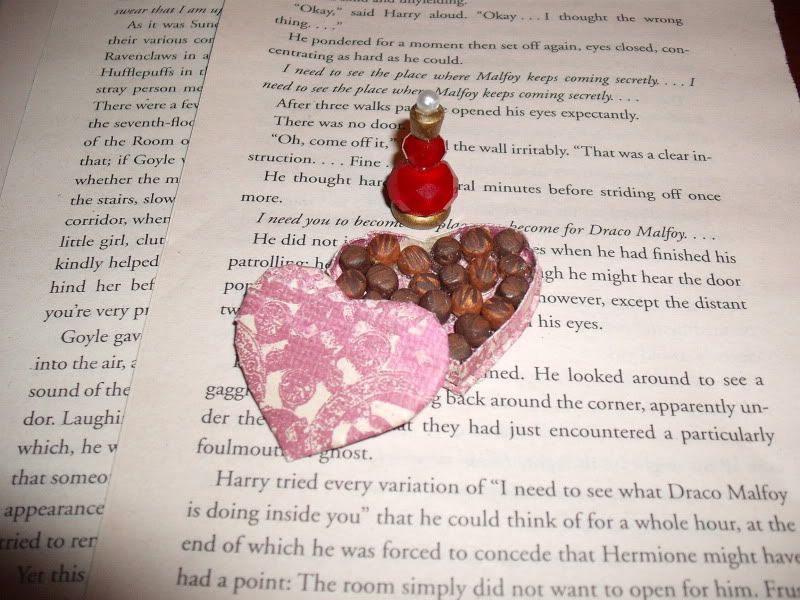 thanks so much for looking! hope you enjoy perusing as much as i enjoyed making!!!
~erica
edit: also wanted to mention: this entire project was made from things i already had around the house!! total cost: $0!!!
aaaaand~ a special thanks to
knickertwist
! i got about halfway thru and ran out of ideas, kind of stalled out! so i posted up some pics and asked her for some advice, and she made some super helpful suggestions!! more pics also at
http://www.photobucket.com/lilpotionscabinet
, where you can see those in progress shots, as well as a few pics of the other stuff i made for this swap!!